Modular built headlamps lasts longer
Newsletter Template
Ready to use newsletters
Today we release the first newsletter template, a new format in the marketing campaigns.
During the campaigns we handpick relevant subjects and deliver all the material you will need to send out beautiful newsletters to your customers. These newsletter packages will include text material, images/videos, links and a design suggestion. All you need to do is: translate the text to your language and setup the newsletter.
You don't need to follow our suggestions; you can take whatever part of the material you find relevant or simply use the idea – it is up to you!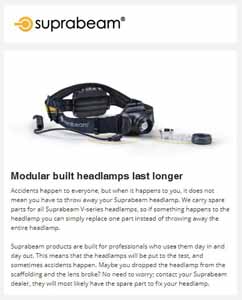 Newsletter design example
Modular Construction
The V-series headlamps are designed for a long lifetime
This newsletter template focuses on the innovative modular design of the V-series headlamps, and how this benefits your customers. Spare parts are available for all the V-series headlamps, which means that your customers will not have to throw away a broken headlamp but are able to get it repaired.
With the V3air and V3air rechargeable damages to the lens can be repaired, as the lens and reflector are available as a spare parts. The V3pro, V3pro rechargeable and V4pro rechargeable are a bit more versatile, as the batterypack, cable, lamphead and lens can be replaced if something brakes.
This is an important subject, as it is a unique selling point and one of the areas where Suprabeam differentiates from the competition.