Information
Minimal i størrelse, men overraskende kraftig. Den er utstyrt med vårt Hyper-Focus-system i kombinasjon med den nyeste LED Power-Chip-teknologien.
Perfekt å ha i nøkkelringen for sikkerhet og bekvemmelighet, eller i teknikerens lomme.
Den bruker bare 1 x AAA-batteri, varer i opptil 5 timer og veier bare 38 gram.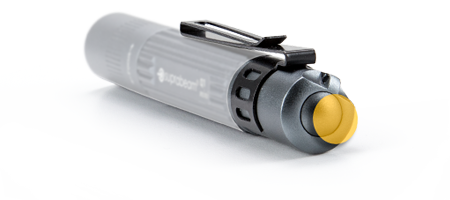 SWITCH
The endcap metal button is a switch with a task function, allowing you to step through the light modes without activating the lamp constantly. The different light functions are provided by our Intelligent Light Control circuit.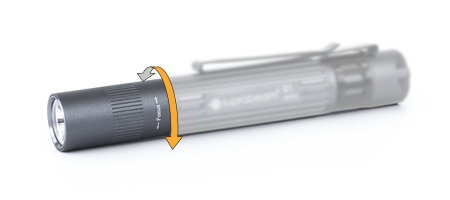 ROTATING HYPERFOCUS™
The rotating Hyperfocus™ lets you go from flood to spot with a light turn of the lamphead. Control the focus with two fingers and switch quickly from 10 degrees to 70 degrees.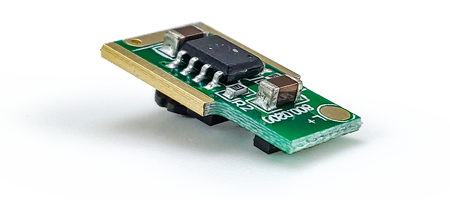 INTELLIGENT LIGHT CONTROL
The advanced electronic micro controller offers switching between high and low light power by a simple switch operation. In addition, it controls the light output for an optimized battery lifetime.

Specifications
| | |
| --- | --- |
| LED: | 1 CREE Power Chip |
| Case: | Anodized, Aluminium |
| Color: | Anthracite Dark Grey |
| Switch: | Quality Tested Metal |
| Dimensions: | L: 98mm, ø 15mm |
| Weight: | 38g |
| IP Rating: | Splash Waterproof IPx4 |
| Temperature: | -20°C to +50°C |
| Controller: | YES, 2-step controller |
| Power Source: | 1 x AAA |
| Beam Distance: | 60 meters |
| Luminous Flux: | Max 120 LM / Low 30 LM |
| Lighting Time: | Max 1h 30min / Low 5h |
| Accessories: | Attachment clip and keyring |
| Packaging: | Presentation Tube |
| Part. No.: | 501.20XX |
What's in the box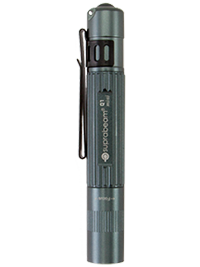 MINI PENNELYKT MED HYPERFOCUS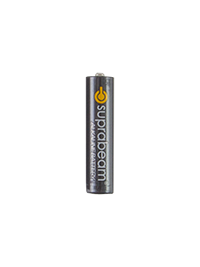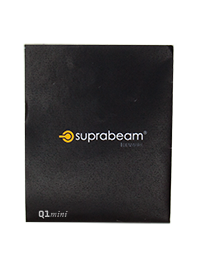 Komponenter av høy kvalitet
Premium anodisert aluminium
Alle lyktene våre er laget av høykvalitets aluminium som er anodisert I Suprabeams hovedfarge, "space gray". Å bruke aluminium har flere fordeler. Lyktene blir meget solide, tåler mer og varer lenger. Aluminiumen fungerer også som avkjøling, og sikrer at LED-brikken ikke blir overopphetet.
Håndverk av høy kvalitet inngår i arbeidet med våre lykter som sikrer at Suprabeam-lyktene alltid yter maksimal og etter våre standarder. En jevnt og roterende fokusering, en solid metall bryter, en meget effektiv optisk linse, det siste innen lys-elektronikk, markert og ergonomisk håndtak med godt grep. Alt dette tilsammen utgjør en Suprabeam-lykt.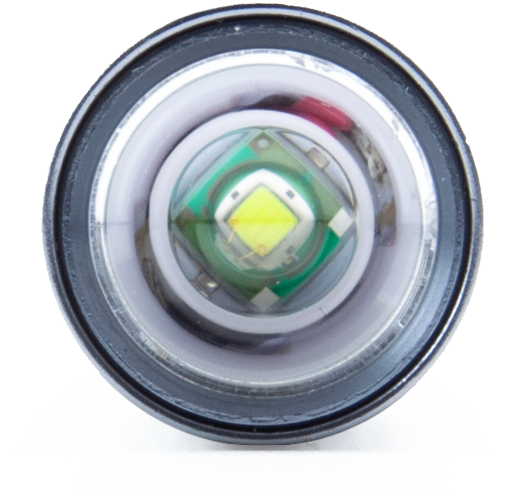 Bryter og intelligent lysstyring
Høy og Lav
For å lage en så viktig del som bryteren har Suprabeam valgt kun de beste komponentene og det siste innen elektronikk for å sørge for lang levetid og at lyktene alltid fungerer.
Bryteren er i metall og er programmert med ulike funksjoner slik at du enkelt kan velge mellom ulike lystyper. De ulike lystypene er styrt av Intelligent Light Control.
Høy = Høy lysstyrke, men mer effektiv utnyttelse av batteriene
Lav = Lavere lysstyrke som gir lang lystid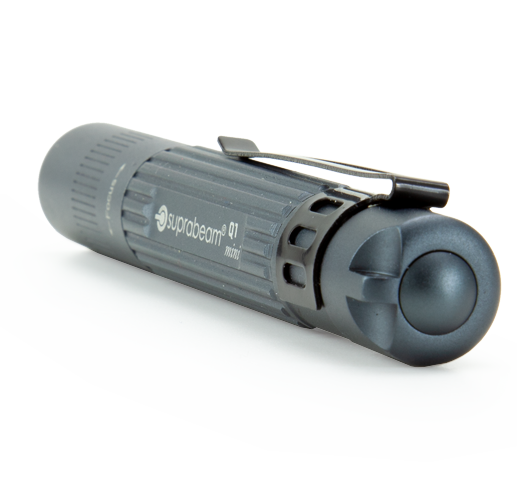 Hyperfocus™
Fokuser ved å vri på hodet - fra bredt flomlys til sterkt spotlys