Danish Design
All of our designs are made by our in-house team of few carefully selected industrial designers in Denmark. They appreciate and love the Danish culture of design. This ensures the cutting edge innovation and high standards of our products.

Premium Quality
We only use the greatest components and materials in our production. Our dedicated team ensures the highest quality in our production. This is why we give a 2 year warranty on all products and build them to last.

Own Factory
In our factory, we follow the strict ISO 9001 standards and we are always striving for perfection. We make several tests and thorough quality control during production. This ensures the same high quality of all products leaving the factory.

Our Mission
We use our innovative, technical understanding and international mindset to provide the world with the best portable light solutions
Suprabeam, a registered Trademark of Steiner A/S
Suprabeam has always been based on creating premium products to quality-conscious consumers. We believe that achieving the best quality is the true reward.
CEO René Steiner from Switzerland founded Steiner A/S in 1998. His mentality and mindset of perfection gave the company a great start as a subcontractor supplying "custom made" Pneumatic hoses and accessories to tool manufacturers and larger distributors in Europe.
In 2001 Steiner A/S started trading particular LED-torches to some clients "as a customer service". This became such a large success that we decided to establish our own brand SUPRABEAM, and to develop and design our own LED-lighting products.
In 2014 we moved the Pneumatic Industrial business to Göteborg, Sweden, in to a new company Steiner Production AB. As part of a restructuring of the corporation to focus on premium LED-products.
SUPRABEAM today designs, produce, and distributes innovative LED-torches and LED-headtorches of the highest quality. We develop for professional craftsmen in industry, automotive and outdoor applications. Our greatest task is to achieve supreme quality and a superb light condition for the entire duration of the products battery- and lifespan.
Light experience
Our ultimate purpose is to provide the users with a "Real light"-experience, by giving them the power of deciding how they want to use their product. The products are programmed by our electronic control to deliver to highest possible light output for the entire duration of the battery's lifetime, providing the light you need in "real life situations".
SGS Certification ISO 9001 and UKAS Accreditation Mark
are the most internationally recognized standards for quality management systems. These standards assist us to ensure, achieve, benchmark and monitor our consistent high product quality, as well as our comprehensive procedures for quality control, to ensure that every product leaving our factory is in accordance with our high standards.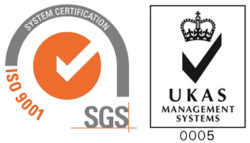 One of the fastest growing Danish companies
Suprabeam has received the Danish Gazelle Award 4 times – in 2006, 2009, 2013 and 2014! We are proud and honoured to be one of Denmark's fast-growing companies. We will continue our philosophy to make every product with great passion and quality in mind. This has brought us to where we are today, and we will continue improving our products to remain the absolute best in our business.
What is the Gazelle Award?
The Gazelle award is given to fast-growth companies.
The definition of a gazelle; is a company who over the past four years has had continuous growth in revenues or gross profit, and which overall has more than doubled revenue or gross profit during the period.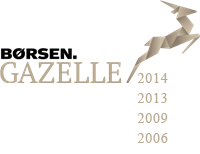 R. Steiner
Managing Director at STEINER A/S, Denmark
Subsidiaries & Distribution partners
All over the world
The Suprabeam headquarter and warehouse are located in Aarhus, Denmark, situated scenically on a hill overlooking the city of Aarhus and the bay. Our headquarter houses R&D, main sales team, marketing, and warehouse staff.
You can find Suprabeam subsidiaries in France, Sweden, and Switzerland and we have close partnerships with distributors globally, ensuring the high level of service Suprabeam is known for, all over the world.
Locally based subsidiaries and distribution partners enable us to deliver a higher level of customer service, both for the stores selling Suprabeam and the end-user as well. Our local sales personal is thoroughly educated in Suprabeam and lighting products in general, in order to answer any questions regarding our products and lighting in general.