Efficient Technology
Technology Designed in Denmark
The pioneer Suprabeam design and technology is made in Denmark. This is the only way to ensure that our innovation is cutting edge, and that every element is carefully designed by our engineers to meet our high standards. It is not the fastest way to make a flashlight or headlamp, but it is the only acceptable way for the Suprabeam brand. Our Premium technology is developed with the latest electronics and components available. We never compromise, and only select the greatest Power LED's from the world's premium LED manufactures, who can meet our high expectations. Therefore, we have our own factory in China to assemble all products and mount our special designed heat-sink providing Thermal Management which allows us to get a constant:
maximum output
high efficiency thermal management
low power consumption
long life operation
TESTED FOR RELIABILITY
Each product is tested both on our factory and in Denmark throughout a series of trails. Only after a full report has been conducted and approved, they can be allowed to leave the Suprabeam headquarters.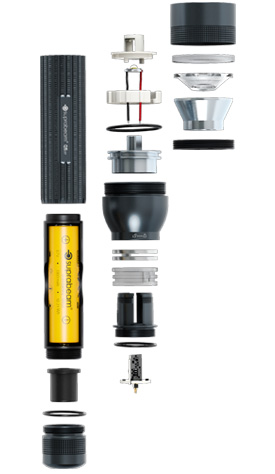 Genuine light experience
Real light – Real life. Technology without compromise
When Suprabeam state "Real life – Real light" it is because, that is what Suprabeam products are all about. These are light tools created to deliver the best possible light experience for what you really need in real life. We constantly work on our control technology between battery and LED. We do this to get the best possible light output for the whole duration of the battery lifetime.
For users of our torches and headlamps it means that if you choose to put your torch or headlamp in boost mode the electronics will make the highest possible light output until the battery is completely drained. This control technology we call Constant Current Output, because the electronics drags a constant current out of the batteries, constantly bumping up the power output.
Most torch producers choose to have a high boost and then let the electronics drop the light output way down to give the illusion of a long battery life time as well as a high output.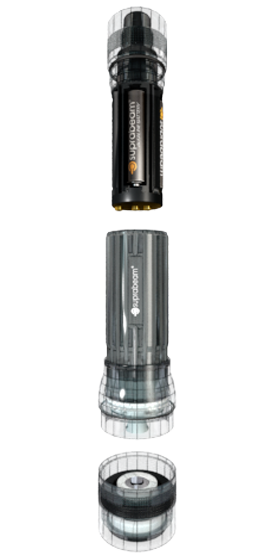 Built for heavy duty
Switch, LED Heat-sink & Modular built
Switch designed for heavy duty
The switch is the most common thing to fail on torches. That's why we choose a high quality switch, which is tested to run for at least 20.000 operations. The switch is covered with a durable solid silicone or aluminium button. Combined we created the greatest and most durable solution ever seen in a torch.
Even if you unlikely should encounter problems, it is designed to be easily replaced like any other part of our torch.
Heat Sink
Our Power LED's are mounted with "heat-sink technology". This insures a perfect user experience every single time you use it. The special designed Heat-sink takes advantage of the entire device by diverting the heat throughout the core structure. Therefore, you will be able to get maximum output for a much longer period.
Maximum output
Efficient thermal management
Low power consumption
Long-life operation
Modular built
All Suprabeam lamps are modular built, in order to provide an easier way to change a part, if something accidentally breaks. This benefits the users of Suprabeam products, because you do not have to throw your lamp away if you have an accident. You can get a spare part to replace the broken part, and continue to use your product.
Headlamp functions
The V3pro headlamps from Suprabeam are equipped with a unique plug system, that provides flexibility and increases product lifetime
Hyperfocus™
Hyperfocus™ technology is found on all V3 headlamps from Suprabeam. It allows you to adjust the light beam of your headlamp. You can adjust from flood to spot by sliding the lamp head forward or backward. The focus system is very efficient because of the reflector and optics.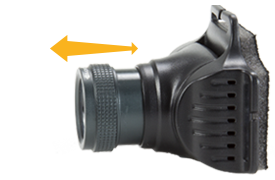 Adjustable angle
The lamp head on all Suprabeam headlamps can be adjusted up and down to the preferred angle. When the lamp head is placed in start position the light beam will point upwards when the headlamp is placed on you head. This is useful when climbing or other activities with an upwards orientation. Adjusting the lamp head to position 2-6 downwards is perfect for running, hiking or ground illumination.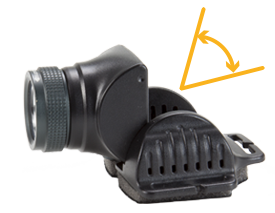 Versatility and longer product lifetime
Our professional headlamps are fitted with a versatile plug system that protects and prolongs the products lifetime. The plugs in the headlamp and battery pack will detach if your headlamp gets tangled. Suprabeam headlamps are built to last. This is not only reflected in the choice of materials, but also the modular construction. The headlamp consists of four parts; lamp head, cable, batterypack, and headband – which are all interchangeable. This does not only make maintenance easier, but also prolongs product lifetime considerably.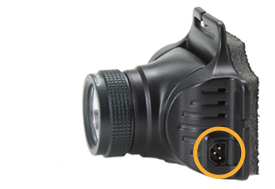 Make the right battery choice
Flexibility, Maximum power or cheapest running cost?
Light use
Do you use your torch or headlamp:
5 minutes or less, at the time
2-3 times a week or less
Then a torch or headlamp with alkaline batteries is the best choice for you, because alkaline batteries are very good in devices that consumes power over a long period of time, and aren't used for long durations of time. In addition, alkaline batteries has the advantage of being easy accessible, which means that you can replace the drained batteries with fresh ones instantly.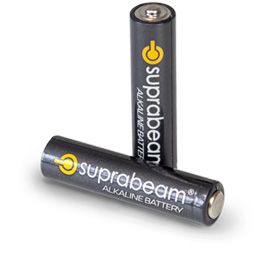 Medium use
If you use your torch og headlamp:
5-30 minutes or more at the time
2-3 times a week or more
If you use your headlamp or torch for long durations each time and regularly. A high quality rechargeable NiMh battery would fit you and your wallet very good. You will as a medium user soon realize that a high output torch or headlamp goes through alcaline batteries very quickly. Furthermore, a change to use high quality NiMh batteries will benefit the environment, your wallet, and you will get a bit more power out of your torch or headlamp.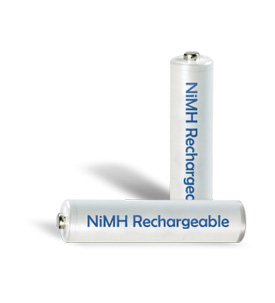 Heavy Use
Do you use your torch or headlamp as below, you are a heavy user:
30 minutes or more each time
3 times a week or more, or for long durations
If you use your torch or headlamp as a part of your everyday life, a rechargeable Li-ion / Polymer is the right choice for you. Li-ion / Polymer batteries can pack more power than normal batteries, and can run a high output torch with a stable constant output for long periods of time. The only thing to remember when buying a Li-ion / Polymer torch or headlamp, is to have the right amount of spare batteries needed for your intended use.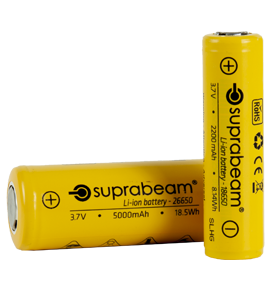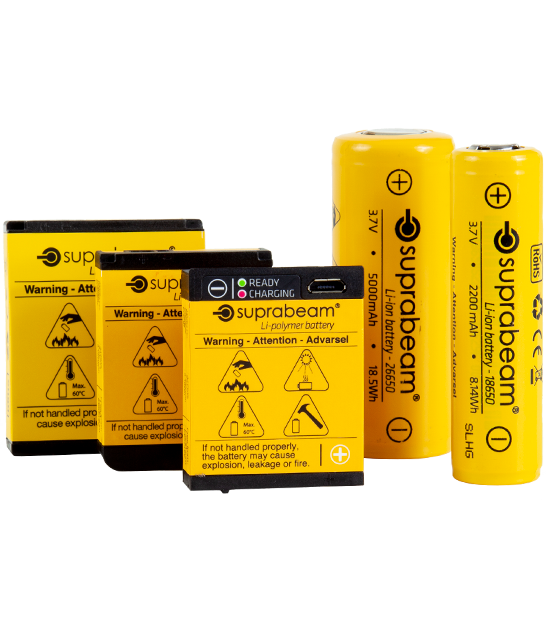 Safe use around rechargeable batteries
Proper usage and safe handling guidelines
Download the PDF about Proper and safe handling of lithium batteries
Overheating, explosion or fire can occur if batteries are left in very high temperatures
Do not disassemble, puncture, or damage the battery in any way.
The battery cannot handle hard impacts.
Do not throw lithium-ion secondary batteries, drop them from high places, or otherwise subject them to strong impacts. Doing so may cause overheating, explosion or fire.
Batteries can be harmed if charged in hot environments
Do not place combustible materials on top of or over a lithium-ion secondary battery when recharging or discharging. Doing so may result in overheating, explosion or fire.
For more information about safe handling of rechargeable batteries read more.