Information
Vår andre utgave av de ikoniske og populære lommelyktene i defend-serien med mykt uretan-belegg leverer det beste fra Q7defend i en klassisk og mye lettere utgave.
Den svært kompakte og kraftige Q3defend er svært holdbar, og den kombinerer toppmoderne teknologi med flott design og kvalitetsopplevelse.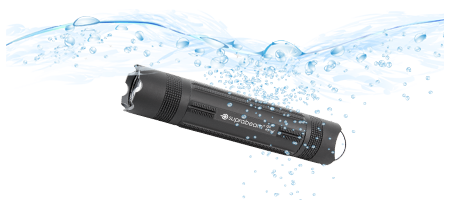 WATER- AND DUSTPROOF
The Q3defend is rated IP68, which means it is waterproof, tested up to 10 meters. The Q3defend is the perfect tactical torch for all operations. It is resistant against dirt, dust, water and other challenges you put it through
TACTICAL TAIL SWITCH
The tactical tail switch is carefully shaped so that it can be used to break light surfaces. You will also be able to use it for self-defense. Inside there is an integrated clip hanger.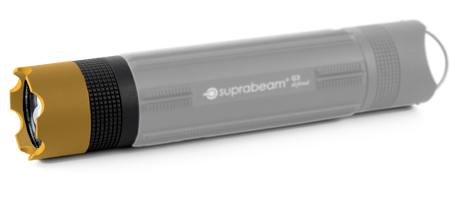 STRIKE BEZEL
Use the strike bezel for self-defense or as an easy way to locate your torch in the dark. When switched on and placed upside down on a table, it will light up around the tip of the head.

Specifications
| | |
| --- | --- |
| LED: | 1 CREE Power Chip |
| Case: | Anodized, Aluminium with a soft touch urethane coating |
| Color: | Tactical Black |
| Switch: | Solid Silicone button with Touch |
| Dimensions: | L: 124mm, ø 27mm |
| Weight: | 99g |
| IP Rating: | Waterproof (up to 10m) IP68 |
| Temperature: | -20°C to +50°C |
| Controller: | YES, One step |
| Power Source: | 3 x AAA |
| Beam Distance: | 210 meters |
| Luminous Flux: | 280 LM |
| Lighting Time: | 20 hours |
| Accessories: | Pouch w/ Magnetic lock & Press Stud, Strap |
| Packaging: | Presentation Tube |
| Part. No.: | 503.40XX |
What's in the box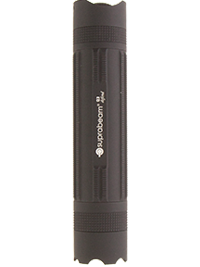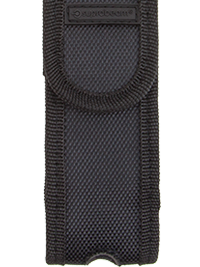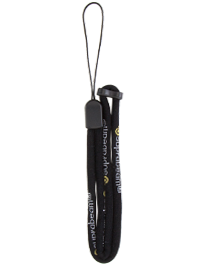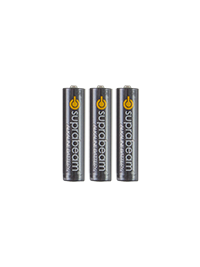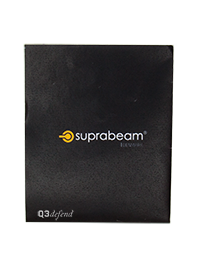 FOCUSED PRODUCTS
Vanntett opptil 10 meter
Q3defend har rating på IP68, som betyr at den er vanntett og testet på opptil 10 meters dyp
Den perfekte taktiske lykten for alle operasjoner. Den motstår smuss, støv, vann og andre utfordringer du utsetter den for. Uansett hvilke værforhold du måtte oppleve, den taktiske lykten er en pålitelig følgesvenn å ha med seg. Bare husk å lukke produktet ordentlig, og bruk det kun i ferskvann.
IP (Internasjonal beskyttelse) rating – Klargjøring
Det første sifferet i ratingen viser beskyttelsen mot harde fremmedlegemer (f.eks. støv), og det andre sifferet viser beskyttelsen mot vann som trenger inn. Q3defend har 6 som første siffer, og er fullstendig beskyttet mot støv. Det andre sifferet, 8, viser at produktet er beskyttet når det dyppes fullstendig og kontinuerlig ned i vann.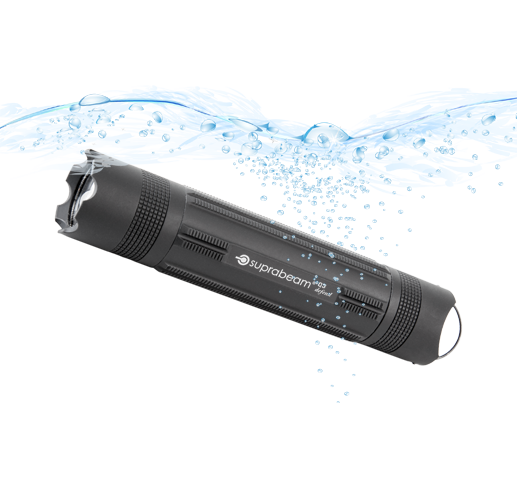 Komponenter av høy kvalitet
Premium anodisert aluminium
Alle lyktene våre er laget av høykvalitets aluminium som er anodisert. Defend lykterne er i taktisk svart farge. Å bruke aluminium har flere fordeler. Lyktene blir meget solide, tåler mer og varer lenger. Aluminiumen fungerer også som avkjøling, og sikrer at LED-brikken ikke blir overopphetet.
Håndverk av høy kvalitet inngår i arbeidet med våre lykter som sikrer at Suprabeam-lyktene alltid yter maksimal og etter våre standarder. En jevnt og skyvende fokusering (Q7defend), en solid silikon bryter, en meget effektiv optisk linse, det siste innen lys-elektronikk, markert og ergonomisk håndtak med godt grep. Alt dette tilsammen utgjør en Suprabeam-lykt av høyeste kvalitet.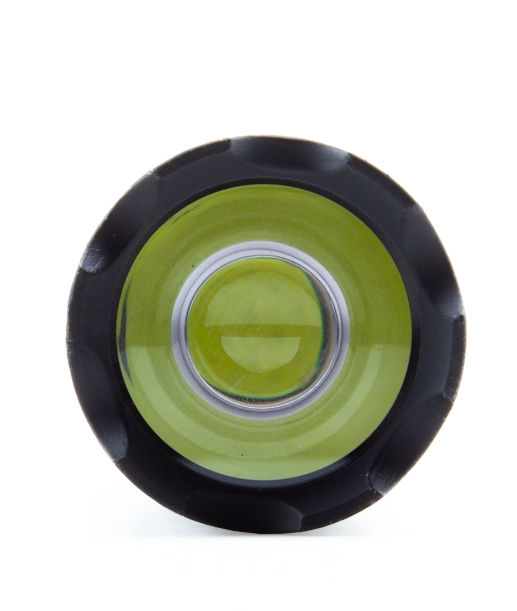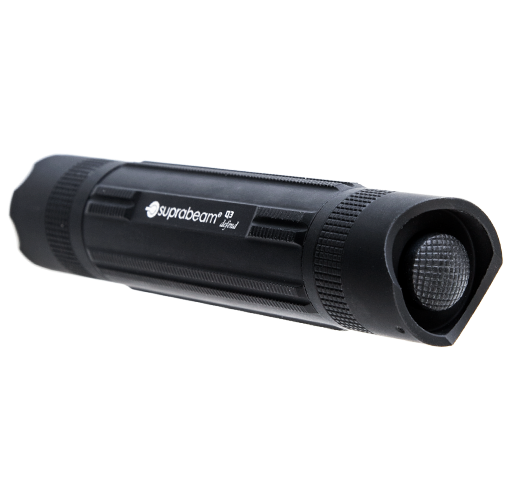 Bryter
På/Av Bryter
For å lage en så viktig del som bryteren har Suprabeam valgt kun de beste komponentene og det siste innen elektronikk for å sørge for lang levetid og at lyktene alltid fungerer.
Bryteren er i metall og gir tilgang til flott lys med en enkel berøring.