Information
Den mest teknologisk avanserte, oppladbare lommelykten i Suprabeams historie. Vi har laget en lommelykt som flytter grensene for lys.
Reflektoren er fremstilt av massivt aluminium og utformet for å gi deg minst mulig lystap. Sammen med Thermal Management-kjøleribben gir Q7xr maksimal lyseffekt helt til batteriet er tomt.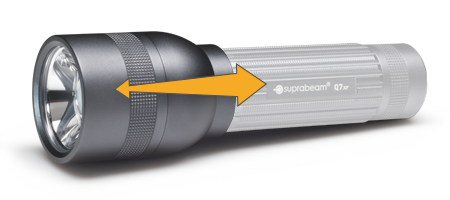 SLIDING HYPERFOCUS
The sliding Hyperfocus™ optical system collects the LED radiance and distributes it with maximum efficiency from a perfect round floodlight beam to a highly intensive, long range spot beam. All just by one-hand sliding of the light head.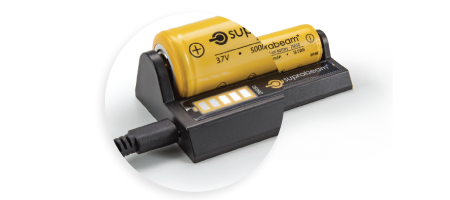 FAST CHARGING BASE
Connected by standard Micro USB and with our 5V/2A-230VAC power adapter it charges the Li-Ion cell at maximum rate. With or without USB power it shows the battery status on a 5-LED light stripe at any time.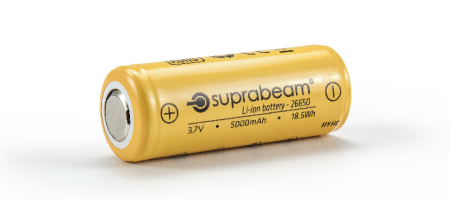 SPARE BATTERY
With two 5000 mAh batteries included as a standard, you can charge one battery externally while using the other in the torch. This gives you the freedom to use the torch without interruption, and you won't have to worry about discontinuing the use to charge the battery.

Specifications
| | |
| --- | --- |
| LED: | 1 CREE Power Chip |
| Case: | Anodized High Strength Aluminium |
| Color: | Anthracite Dark Grey |
| Switch: | Solid Silicone button with Touch |
| Dimensions: | L: 150mm, ø 46mm |
| Weight: | 307g |
| IP Rating: | Splash Waterproof IPx4 |
| Temperature: | -20°C to +35°C |
| Controller: | YES, 5-step controller |
| Power Source: | Li-ion 26650 (18.5 Wh) 2 pcs. included |
| Charging time: | 100% = 7h | 80% = 5h 20min |
| Beam Distance: | 345 meters |
| Luminous Flux: | Max 1000 LM / High 500 LM / Medium 250 LM / Low 50 LM / Strobe 10 Hz |
| Lighting Time: | Max 2h 45min / High 3h 35min / Medium 8h / Low 37h |
| Accessories: | Pro. Quality Pouch with Velcro and Press Stud, Strap, 100-240VAC Adaptor with USB cable and external ICR 26650 Charger |
| Packaging: | PE Portable Box |
| Part. No.: | 507.61XX |
Video
Alkaline vs. Rechargeable
What's in the box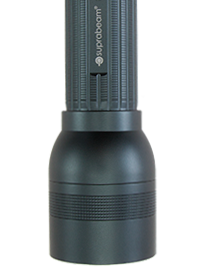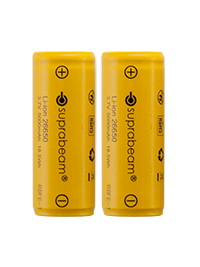 2x 5000 mAh LITHIUM BATTERIER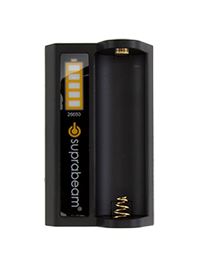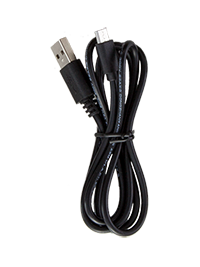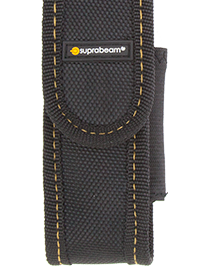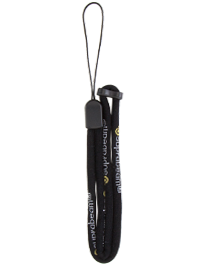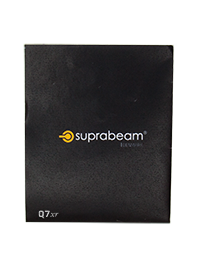 Compatible accessories
Komponenter av høy kvalitet
Premium anodisert aluminium
Alle lyktene våre er laget av høykvalitets aluminium som er anodisert I Suprabeams hovedfarge, "space gray". Å bruke aluminium har flere fordeler. Lyktene blir meget solide, tåler mer og varer lenger. Aluminiumen fungerer også som avkjøling, og sikrer at LED-brikken ikke blir overopphetet.
Håndverk av høy kvalitet inngår i arbeidet med våre lykter som sikrer at Suprabeam-lyktene alltid yter maksimal og etter våre standarder. En jevnt og skyvende fokusering, en solid silikon bryter, en meget effektiv optisk linse, det siste innen lys-elektronikk, markert og ergonomisk håndtak med godt grep. Alt dette tilsammen utgjør en Suprabeam-lykt av høyeste kvalitet.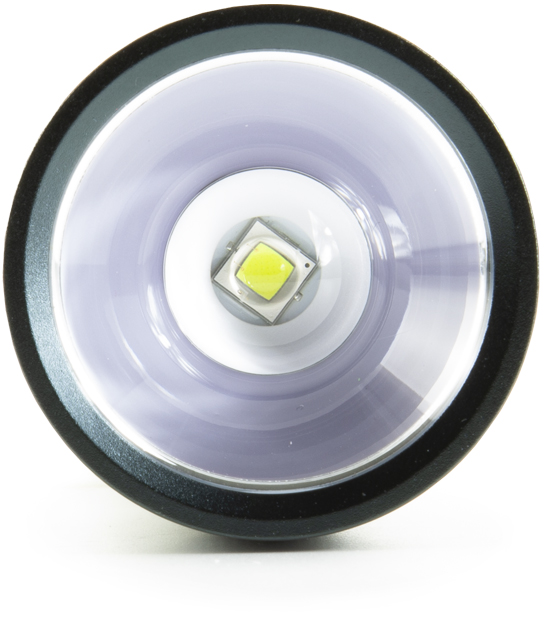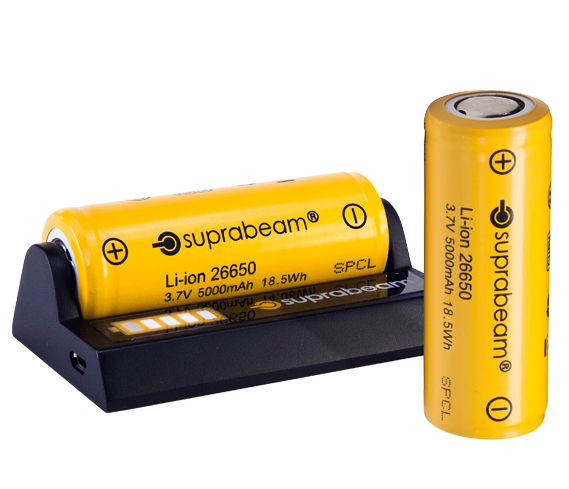 External USB Charging
Unique charging feature for professionals
With two 5000 mAh batteries included as a standard, you can charge one battery externally while using the other in the torch. This gives you freedom to use the torch without interruption, and you won't have to worry about discontinuing the use to charge in an internal charger, each time you have to charge it.
The integrated light display feature on the External Charging Station allows you to easily check the remaining battery charge of each battery.
Focus Lock
Improved Focus Lock-Function to prevent unwanted sliding
With the improvements we made, you will be able to operate with our products much easier and hardly ever encounter problems with unwanted sliding.
How does it work?
When the torch is slid to Focus, simply turn the head a couple of degrees to the left to enable the lock-function. This will engage a brake-function which will prevent unwanted sliding from focus to flood beam.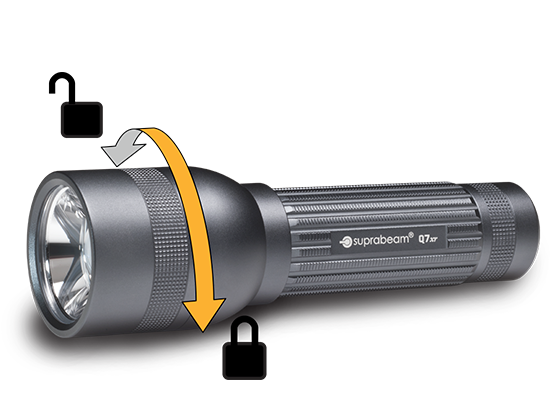 Bryter og intelligent lysstyring
Max, Høy, Medium, Lav og Strobe
For å lage en så viktig del som bryteren har Suprabeam valgt kun de beste komponentene og det siste innen elektronikk for å sørge for lang levetid og at lyktene alltid fungerer.
Bryteren er i silikon og er programmert med ulike funksjoner slik at du enkelt kan velge mellom ulike lystyper. De ulike lystypene er styrt av Intelligent Light Controll.
Max = Maksimal styrke og utnyttelse av batterier og LED
Høy = Høy lysstyrke, men mer effektiv utnyttelse av batteriene
Medium = Medium lysstyrke, medium lystid
Lav = Lavere lysstyrke som gir lang lystid
Strobe = Blinkende strobelys på 10 Hz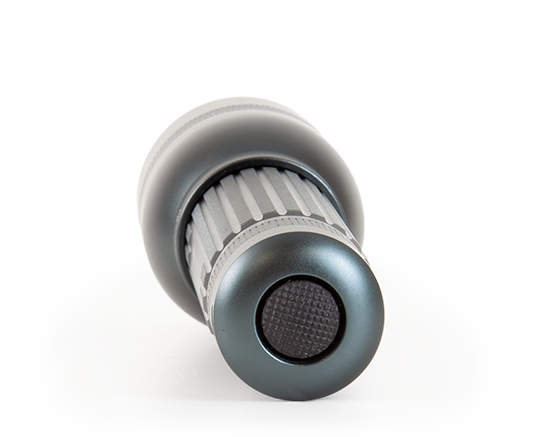 Hyperfocus
Fokus fra bredt flomlys til sterkt spotlys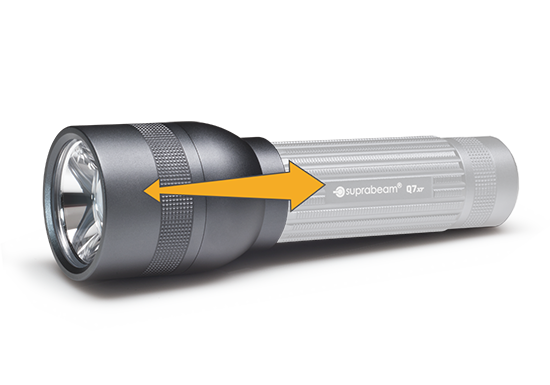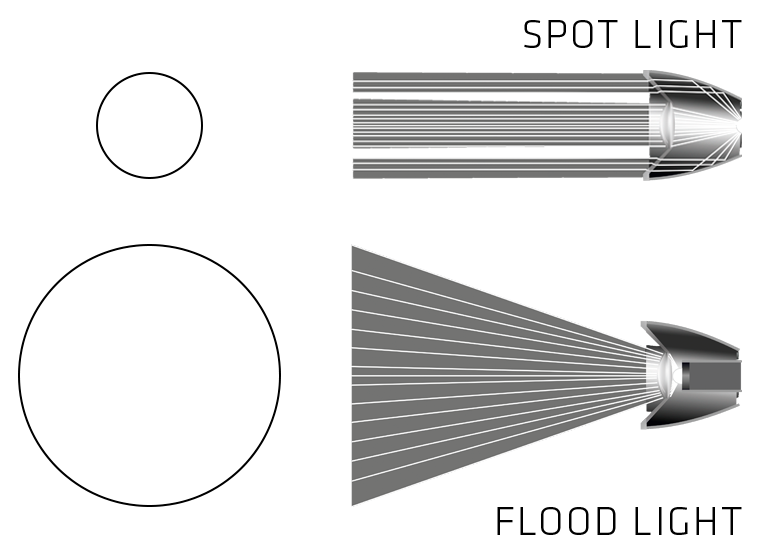 Oppladbare batterier
Spar penger og ta vare på miljøet
Spar penger! Selv om oppladbare batterier koster mer når du kjøper de, kan de, om de brukes riktig, brukes om og om igjen i mange år. Over tid vil man spare penger på å velge oppladbare batterier.
Ta vare på miljøet! Batterier inneholder korrosive metaller og tungmetaller. Produksjonen, transporten og avfallshåndteringen av disse batteriene kan forverre både helsen vår og vårt sårbare miljø. I California er batterier forbudt på deponier og de må enten gjenvinnes på korrekt måte eller kastes som farlig avfall. Ved å bruke oppladbare batterier minsker andelen vanlige batterier og etterspørselen etter disse.
Spar penger og hindre sløsing – fordi oppladbare batterier kan bli brukt gjentatte ganger er det langt færre batterier som trenger å bli produsert.