Information
The most technologically advanced rechargeable torch in Suprabeam history. We created a torch that pushes the boundaries of light.
The reflector is machined out of massive aluminium, designed to give you a minimum loss of light. Together with the Thermal Management Heat-sink the Q7xr will perform with a maximum light output till the battery is drained completely.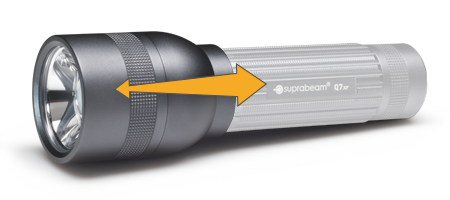 SLIDING HYPERFOCUS
The sliding Hyperfocus™ optical system collects and distributes the LED radiance with maximum efficiency. It forms a perfect round floodlight beam to a highly intensive, long range spot beam. All just by one-hand sliding of the light head.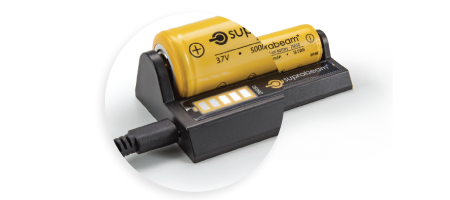 FAST CHARGING BASE
Connected by standard Micro USB and with our 5V/2A-230VAC power adapter it charges the Li-Ion cell at maximum rate. With or without USB power it shows the battery status on a 5-LED light stripe at any time.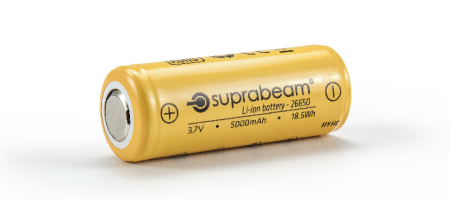 SPARE BATTERY
Two 5000 mAh batteries are included as a standard. You can charge one battery externally while using the other in the torch. This gives you the freedom to use the torch without interruption. You won't have to worry about discontinuing the use to charge the battery.

Specifications
| | |
| --- | --- |
| LED: | 1 CREE Power Chip |
| Case: | Anodized High Strength Aluminium |
| Color: | Anthracite Dark Grey |
| Switch: | Solid Silicone button with Touch |
| Dimensions: | L: 150mm, ø 46mm |
| Weight: | 307g |
| IP Rating: | Splash Waterproof IPx4 |
| Temperature: | -20°C to +35°C |
| Controller: | YES, 5-step controller |
| Power Source: | Li-ion 26650 5000mAh (18.5 Wh) 3.7 V. 2 pcs. included |
| Charging time: | 100% = 7h | 80% = 5h 20min |
| Beam Distance: | 345 meters |
| Luminous Flux: | Max 1000 LM / High 500 LM / Medium 250 LM / Low 50 LM / Strobe 10 Hz |
| Lighting Time: | Max 2h 45min / High 3h 35min / Medium 8h / Low 37h |
| Accessories: | Pro. Quality Pouch with Press Stud, Strap, 5V/2A 100-240VAC Adapter with USB cable and external ICR 26650 Charger |
| Packaging: | PE Portable Box |
| Part. No.: | 507.61XX |
Video
Alkaline vs. Rechargeable
What's in the box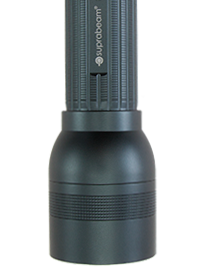 FLASHLIGHT WITH HYPERFOCUS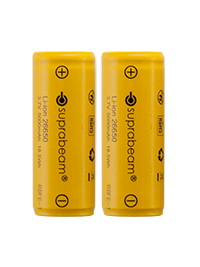 2x RECHARGEABLE BATTERIES 5000mAh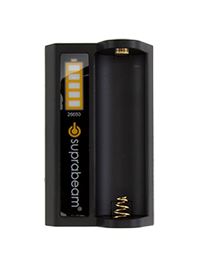 EXTERNAL CHARGER WITH BATTERY INDICATOR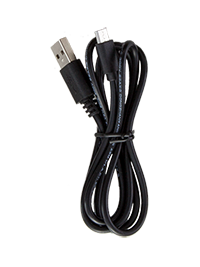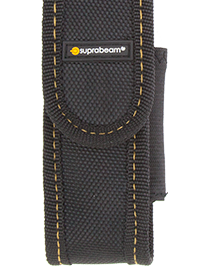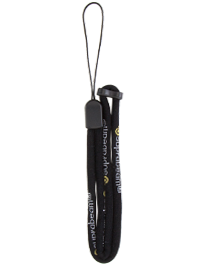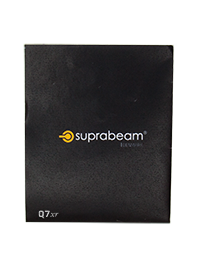 MANUAL WITH ILLUSTRATIONS
Focused accessories
Quality Materials
High quality aluminum, space grey anodized
All of our torches are made from High Strength Aluminium, which is anodized in Suprabeam's signature colour Suprabeam grey. Using aluminum has many advantages; it gives a sturdy and durable torch, that can withstand being used. Our aluminum body also works as a big heat-sink, ensuring that the LED is being cooled properly
The High quality of craftsmanship going in to our torches, ensures that our products always perform as they were intended to do. A smooth sliding focus, a solid silicone touch switch, highly efficient optics, ripped ergonomic handle ensuring you a firm grip. All of the things combined is what makes a Suprabeam.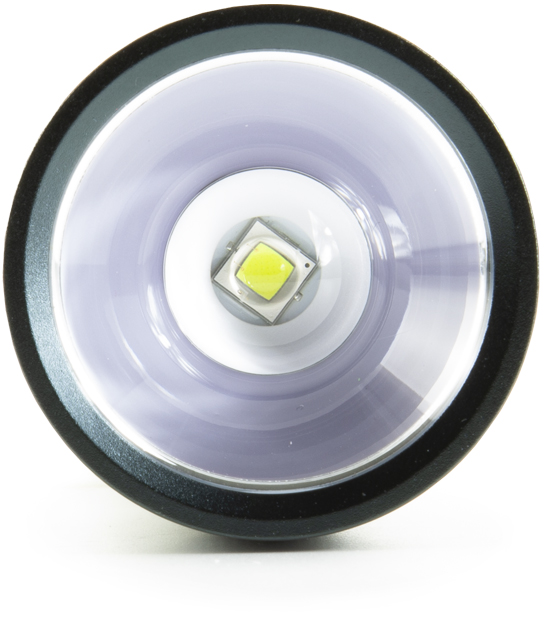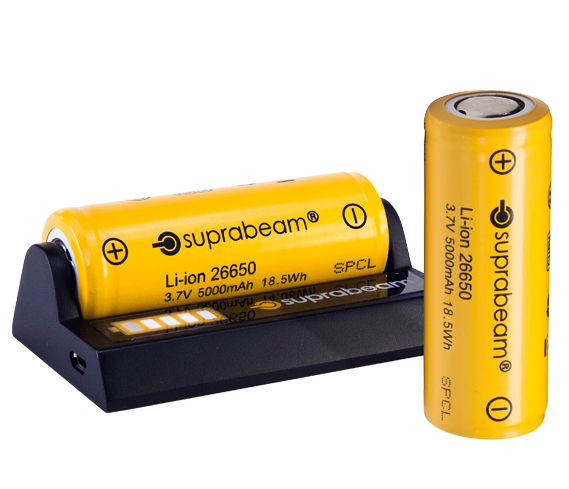 External USB Charging
Unique charging feature for professionals
Two 5000 mAh batteries are included as a standard. This enables you to charge one battery externally while using the other in the torch. This gives you freedom to use the torch without interruption. You won't have to worry about discontinuing the use to charge in an internal charger, each time you have to charge it.
The integrated light display feature on the External Charging Station allows you to easily check the remaining battery charge of each battery.
Focus Lock
Improved Focus Lock-Function to prevent unwanted sliding
With the improvements we made, you will be able to operate our products much easier without ever encounter problems with unwanted sliding.
How does it work?
When the torch is slid to Focus, simply turn the head a couple of degrees to the left to enable the lock-function. This will engage a brake-function which will prevent unwanted sliding from focus to flood beam.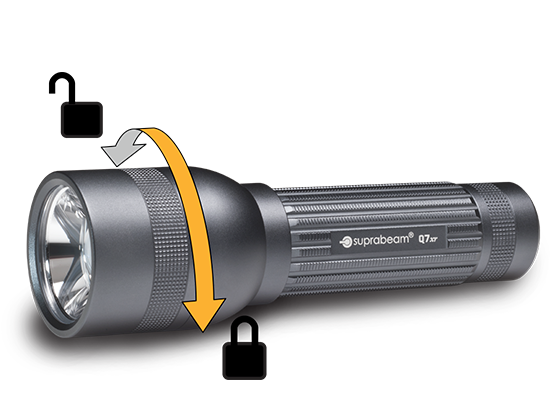 Switch and Controller
Max, High, Medium, Low and Strobe
The switch inside a Suprabeam torch is first grade electronics, ensuring a long lifetime and correct functionality every time.
The switch is a silicone button with Touch function at rear. Allowing you to step through the light modes without activating the switch completely. The different light functions are controlled by ILC = Intelligent Light Control
Max = Maximum output allowed by battery and LED
High = Sustainable high light output
Medium = Medium light output, medium lifetime
Low = Long term low light output
Strobe = Flashing strobe light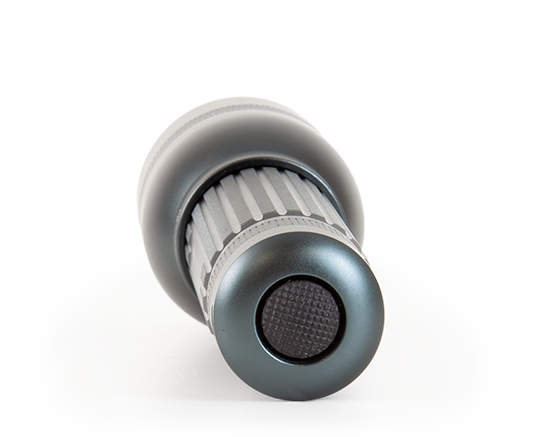 Hyperfocus
Focus from wide floodlight to narrow spotlight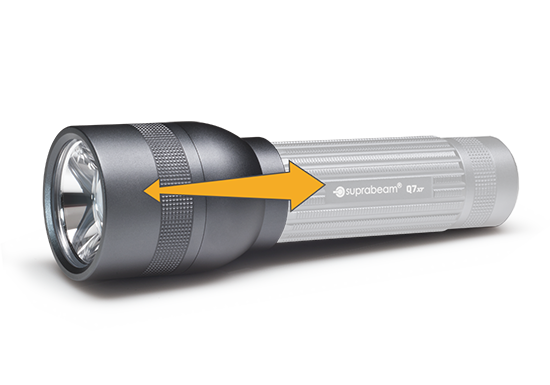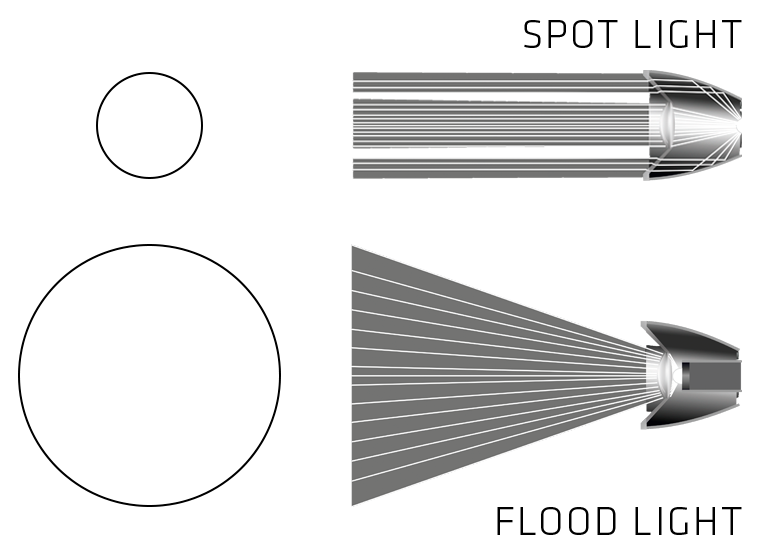 Rechargeable Batteries
Environmentally friendly
Save Money – While rechargeable batteries cost more initially, they can be reused hundreds of times and last for years. If used properly.
Protect the Environment. Batteries contain corrosive materials and heavy metals. Their manufacture, transportation and disposal can impair human health and the environment. In California, batteries are banned from landfills and must be either recycled or handled as hazardous waste. Using rechargeable batteries greatly reduces the number of overall batteries required and disposed of.
Conserve Resources, Prevent Waste. Because rechargeable batteries can be used over and over, far fewer need to be manufactured and transported than when using single-use disposable batteries.