Informasjon
A rugged but still refined penlight that with ease fulfills the demand for a powerful inspection light. Perfect for inspection in cavities, in engine bays, or in any tight spaces. The E1 has two light functions, momentary lighting and constant lighting which are easily controlled with the tail switch. Furthermore, the E1 is fitted with a high-quality steel clip that firmly secures the penlight in a pocket.
The E1 is also waterproof IPX8 rated ensuring that it will always work even under tough conditions.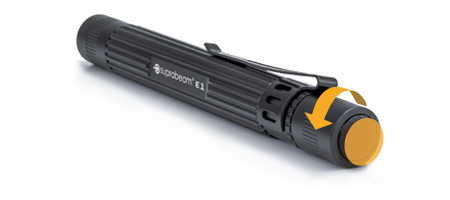 TURN AND TOUCH SWITCH
The switch allows the user to turn on a constant light or touch and hold for a quick inspection light, when the switch is slightly turned.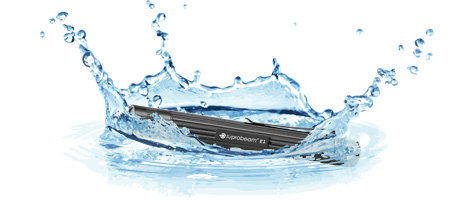 WATERPROOF - IPX8
The E1 is rated IPX8, which means it is waterproof down to 1 meter. Use the E1 in all weather conditions without being concerned about your light.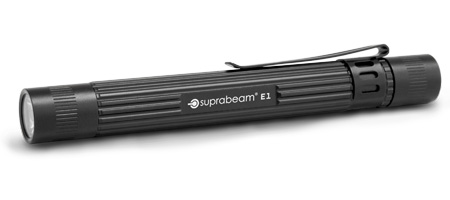 RUGGED DESIGN
The E1 is built for your essential needs and the rugged design makes it durable in almost every situation. Take the E1 with you everywhere and trust it to be your durable companion.

spesifikasjoner
| | |
| --- | --- |
| LED | 1 CREE Power Chip |
| Case: | Anodized, Aluminium |
| Switch: | Turn/Touch-Switch At Rear |
| Dimensions: | L: 127,1mm, ø 14,88mm |
| Weight: | 50g |
| IP Rating: | Waterproof IPx8 |
| Temperature: | -20°C to +50°C |
| Controller: | YES |
| Power Source: | 2 x AAA |
| Beam Distance: | 60 meters |
| Luminous Flux | 120 LM |
| Lighting Time: | 2 hours |
| Accessories: | Attachment clip |
| Packaging: | Transparent PE packaging |
| Part. No.: | 511.1005 |
Video
Alkaline vs. rechargeable
Suprabeam brand video 2018
LYSKURVE
INNHOLD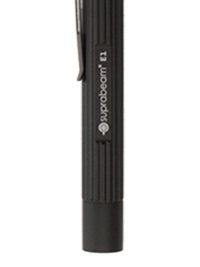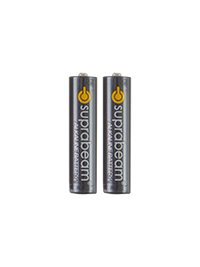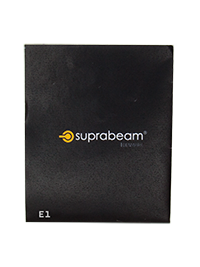 MANUAL WITH ILLUSTRATIONS
Quality materials
High quality materials and a rugged design
The E1 is designed to be tough, rugged, and able to withstand anything you throw at it. Our mission with the E1 was to create a pen torch that could handle tough usage and still be price friendly. This has been assured, not by compromising on the materials, but by making simple but creative solutions.
All our torches are made with High Strength Aluminium. Using aluminium has many advantages; it gives a sturdy and durable torch that can withstand being used in all kinds of situations. Our aluminium body also works as a big heat-sink, ensuring the LED is being cooled properly.
The high quality of craftmanship going in to our torches, ensures that our products always perform as they are intended to. The E1 is no exception, you have a high-quality torch, made of premium materials, with a simple and intuitive switch system.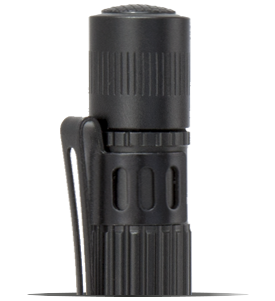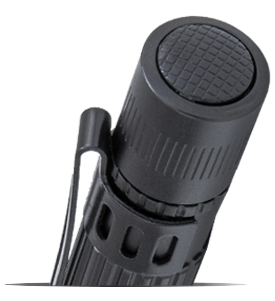 Turn and Touch Switch
The E1 is made with an extra sturdy and practical turn-switch
The switch design featured on the E1 is purely mechanical, which makes it extra tough, without compromising on the supreme functionality you find on all Suprabeam torches.
The design of the mechanical switch is very uncomplicated, which makes it almost impossible for anything to break or go wrong. The switch is all metal, but with a plastic button for extra grip. For the sake of simplicity, the E1 has only one light mode, and this makes the pen torch extremely easy to use.
For a constant light, you simply turn the switch clockwise until the torch is turned on.
For a quick inspection light, you just press and hold down the switch for as long as you need.
Waterproof up to 1 meter
The E1 is IPX8 rated
No matter the weather, the E1 will be your trusted companion.
The E1 is IPX8 rated, which means that it will still function perfectly even after being submerged into maximum 1 meter of water. All you need to remember is that the switch must be screwed past the rubber gasket, to make sure that the torch is sealed.
IP (International Protection) Rating Clarification
The first digit is the protection rating against solid foreign objects (i.e. dust) and the second digit represents the protection against the ingress of water. The E1's first "digit" X, means that it is not tested against dust. And the second digit 8, explains that the product is protected against complete continuous submersion in water.