Information
Suprabeam Q3r, rechargeable power brought in to our compact Q3 design.
With its 1100 lumens Q3r is an astonishingly bright compact flashlight, with all the features anyone could wish for. The body is crafted from high strength aluminium, and the sleek design makes the Q3r feel at home in the palm of your hand.
Being completely IP68 waterproof, Q3r can handle the elements and will never let you down.
ROTATING HYPERFOCUS™
The rotating Hyperfocus™ offers instant change from floodlight to spotlight by turning the lamp-head. Simple single hand control of the light beam with two fingers.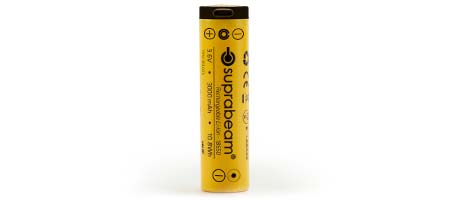 3000 mAh BATTERY WITH USB
The rechargeable 3'000 mAh Li-Ion battery offers USB integrated charging. Purchase a second battery and charge one battery whilst using the torch with the other battery. True continuous operation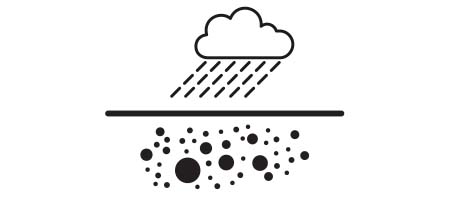 WATER- AND DUSTPROOF - IP68
Tested according to IP68 ensures water proof (2m) and dustproof protection. Designed for trouble-free usage in the field even in wet, dirty or dusty conditions.

Specifications
| | |
| --- | --- |
| LED: | 1 CREE Power Chip |
| Case: | Anodized, Aluminium |
| Color: | Anthracite Dark Grey |
| Switch: | Quality Tested Metal |
| Dimensions: | L: 122mm, ø: 26.5mm |
| Weight: | 130g |
| IP Rating: | Water -and dustproof |
| Temperature: | -20°C to +50°C |
| Controller: | Yes, dimmable |
| Power Source: | Li-ion 18650 3000 mAh (10.8 Wh) 3.6 V. With USB |
| Charging time: | 80% = 3 hours 35 min, 100% = 4 hours 55 min |
| Beam Distance: | Variable from Spot to Floodlight / 200 Meters |
| Luminous Flux (Dim mode): | Max: 1100 lm / Dim: 600-6 lm |
| Lighting Time (Dim mode): | Max: 1 h 45 min / Low Dim: 300 h |
| Luminous Flux (Step mode): | High: 1100 lm / Medium: 500 lm / Low: 200 |
| Lighting Time (Step mode): | High: 1h 45min / Medium:: 2h 30min / Low: 8h |
| Accessories: | Pouch with Velcro and Press Stud, Strap, USB-Cable |
| Packaging: | Presentation Tube |
| Part. No.: | 503.5211 |
Video
Alkaline vs. Rechargeable
Lightcurve
What's in the box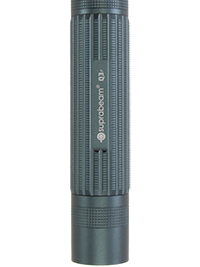 FLASHLIGHT WITH HYPERFOCUS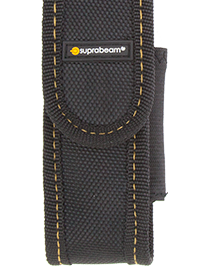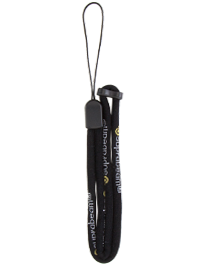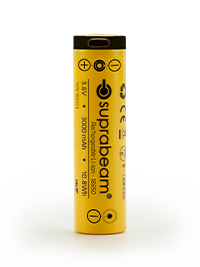 RECHARGEABLE USB BATTERY 3000mAh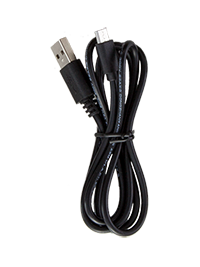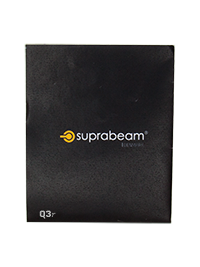 Focused accessories
Quality Materials
High quality aluminum, space grey anodized
All of our torches are made from High Strength Aluminium, which is anodized in Suprabeam's signature colour Suprabeam grey. Using aluminum has many advantages; it gives a sturdy and durable torch, that can withstand being used. Our aluminum body also works as a big heat-sink, ensuring that the LED is being cooled properly
The High quality of craftsmanship going in to our torches, ensures that our products always perform as they were intended to do. A smooth sliding focus, a solid metal touch switch, highly efficient optics, ripped ergonomic handle ensuring you a firm grip. All of the things combined is what makes a Suprabeam.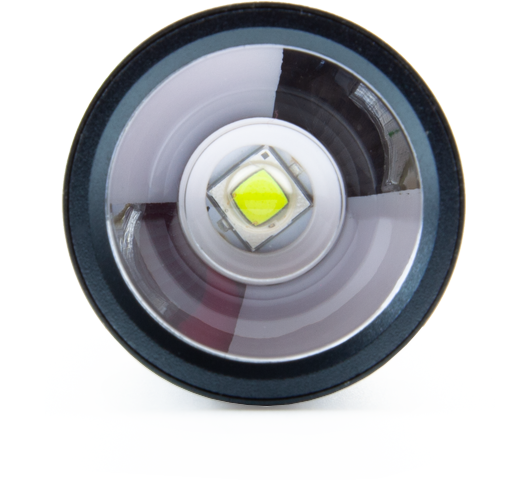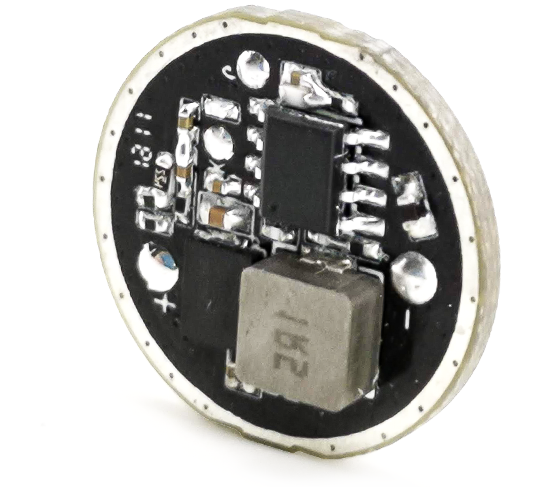 50% longer runtime!
Advanced technologies and higher light output
The Q3r is equipped with an advanced PCB board setup, featuring the DC converter technology. This electronic setup allows the LED chip to run more efficiently, which reduces both heat development from the power LED and the general energy consumption.
In everyday life this means 50% longer runtimes and more light compared to other normal LED torches.
Waterproof up to 2 meter
The Q3r is IP68 rated
No matter the weather, the Suprabeam Q3r will be your trusted companion.
The Suprabeam Q3r is IP68 rated, which means that it will still function perfectly even after being submerged into maximum 2 meters of water. All you need to remember is to tighten the switch securely, to make sure that the torch is sealed.
IP (International Protection) Rating – Clarification
The first digit is the protection rating against solid foreign objects (i.e. dust) and the second digit represents the protection against the ingress of water. The Q3r's first digit 6, means that it is protected against dust. And the second digit 8, explains that the product is protected against complete continuous submersion in water.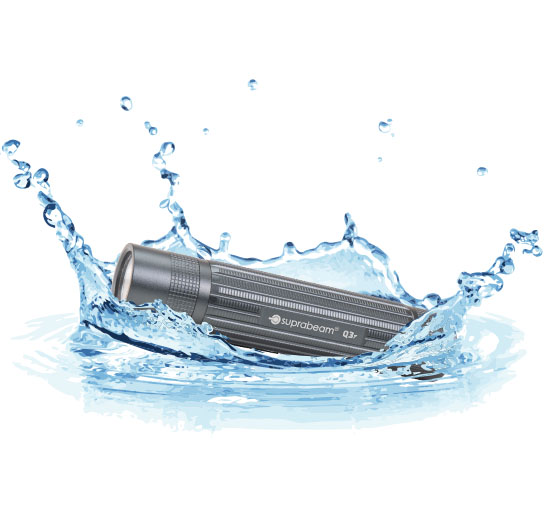 Protective glass
Designed to be tough
Q3r has been armoured with a hardened glass lens protector, to make it even tougher. Optical lenses are delicate objects and can be damaged if they get in contact with foreign object and substances.
Many professions use oils, harsh cleaning agents, solves etc on a daily basis, and the hardened glass lens protector protects the lens from these foreign substances. The lens protector is also far easier to wipe clean, than the lens itself.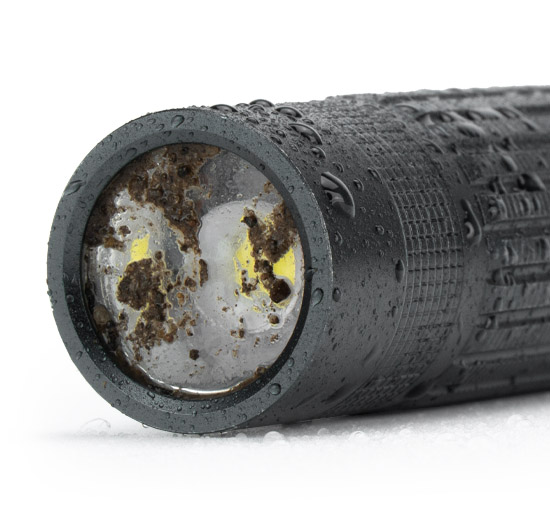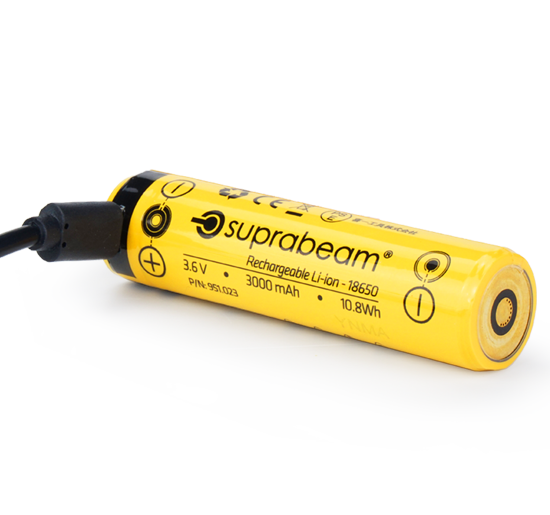 Internal charging
High capacity Li-ion battery with USB charging port
The rechargeable 3000 mAh Li-ion battery in Q3r has an integrated USB charging port. This intuitive charging solution lets you charge outside the flashlight, making it possible to charge one battery while using another in the torch*.
This features is extremely useful for professionals who need many hours of bright light. With extra batteries available as accessories, the runtime can be doubled or tripled if needed.
*additional batteries must be bought separately.
Electronic Switch
Stepless dimming
The Q3r is equipped with an intelligent electronic switch, that makes it possible for you to adjust the light level precisely for your needs. The torch is activated on the last used light level by a short press/click, and a press over 0,6 sec. will put the torch in MAX. Dimming is activated from OFF state by pressing and holding the switch until the desired light level is reached.
The switch is solid rubber with an extra-grip texture, which gives you the ultimate control in all situations.
MAX= Maximum light output (1100) lumens
DIMMING= Stepless dimming from 600 to 6 lumens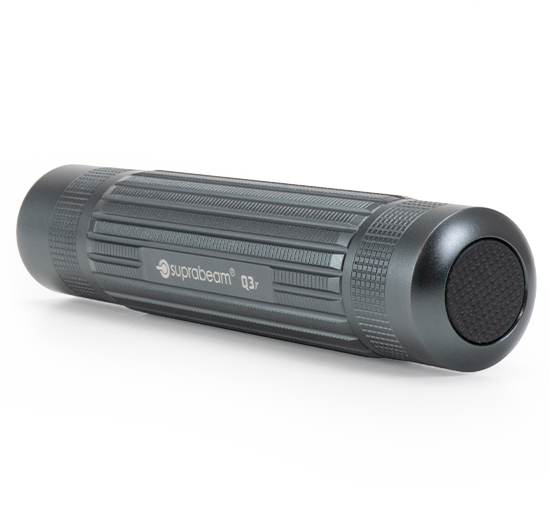 Hyperfocus™
Focus by head rotating - from wide floodlight to narrow spotlight