Information
Suprabeam Q5xr defend is a powerful tactical torch designed for military, police and security.
You will have enough power for any task you might encounter with the 1000 lumens. Q5xr defend is anodized in a tactical black and has many tactical features as: strike bezels in front and back, Anti Roll ring and a tactical black pouch and powerful strobe light.
The advanced electronics in Q5xr defend has been designed to maintain the high light output and reduce power consumption and heat development. This new electronic setup gives the torch 30% longer runtimes and more light, compared to other LED torches.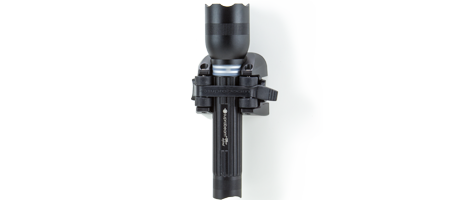 INTERNAL CHARGING
The USB connected charger for the Q5xr defend is designed to be mounted hanging on a wall or installed in a vehicle, making it effortless to hang in your Q5xr defend for charging.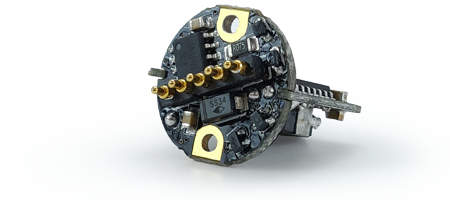 PROGRAMMABLE
The Q5xr defend offers two modes, one goes from Max to Low, the other one goes from Low to Max. You can easily switch between the two programs, so that you can choose the mode that fits the task at hand.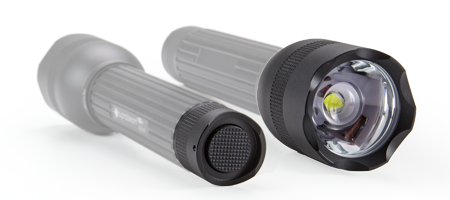 TACTICAL DESIGN
Use the strike bezel for self-defense or as an easy way to locate your torch in the dark. When switched on and placed upside down on a table, it will light up around the tip of the head. The tactical tail cap is carefully shaped so that it can be used to break light surfaces.

Specifications
| | |
| --- | --- |
| LED: | 1 CREE Power Chip |
| Case: | Anodized, Aluminium |
| Color: | Tactical Black |
| Switch: | Quality Tested Metal |
| Dimensions: | L: 161mm, ø 39mm |
| Weight: | 182g |
| IP Rating: | Splash Waterproof IPx4 |
| Temperature: | -20°C to +35°C |
| Controller: | YES, 4-step controller and 2 modes |
| Power Source: | 18650 Li-ion 3300mAh (12.21 Wh) 3.7 V. 1 pcs. included |
| Charging time: | 100% = 3h 40min | 80% = 2h |
| Luminous Flux (Step mode): | Max 1000 LM / Medium 200 LM / Low 50 LM / Strobe 10 Hz |
| Lighting Time (Step mode): | Max 4h / Medium 7h 15min / Low 37h |
| Accessories: | Pro. Quality Tactical Pouch with magnet and Press Stud, Strap, USB cable, External ICR 18650 charger, Anti Roll Ring |
| Packaging: | PE Portable Box |
| Part. No.: | 505.7005 |
Video
Alkaline vs. rechargeable
What's in the box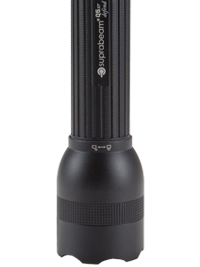 FLASHLIGHT WITH INTERNAL CHARGING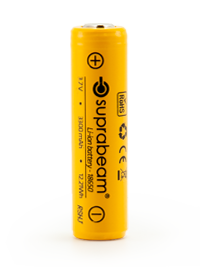 RECHARGEABLE BATTERY 3300mAh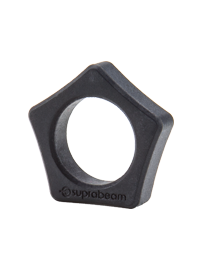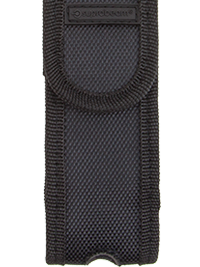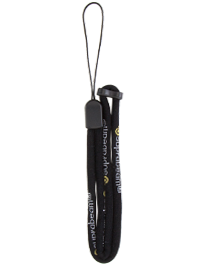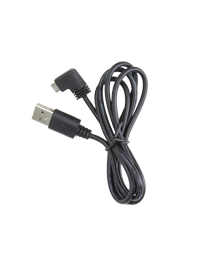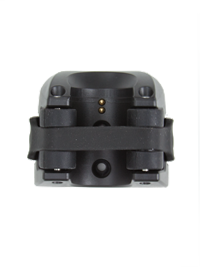 WALL MOUNTED CHARGING STATION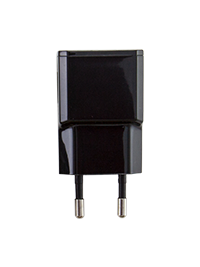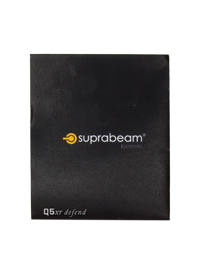 Focused accessories
Tactical Features
Anti Roll Ring, Black Anodizing, Strike Bezels, Instant Strobe
Anti Roll ring
The Suprabeam Q5xr defend comes with the practical Anti-Roll ring which can be put on the torch if needed. The Anti-Roll ring prevents the torch from rolling away, even on tilted surfaces. It also enhances the grip, and secures the torch when fastening it in straps etc.
Black Anodizing
As all our defend torches, the Suprabeam Q5xr defend comes in a tactical black color that blends in with the surroundings at nighttime. The Q5xr defend separates itself by being anodized, so you still have the top-quality metal feel when holding the torch.
Strike Bezel
It is possible to break lighter surfaces with both ends, as they are designed as strike bezels.
Instant Strobe
Suprabeam Q5xr defend has been programmed with an instant strobe function, which quickly can be activated from any mode while the torch is turned on. Simply press and hold to active the strobe function, and release to stop the strobe light. Strobe light can confuse and disorient anybody who looks directly at it.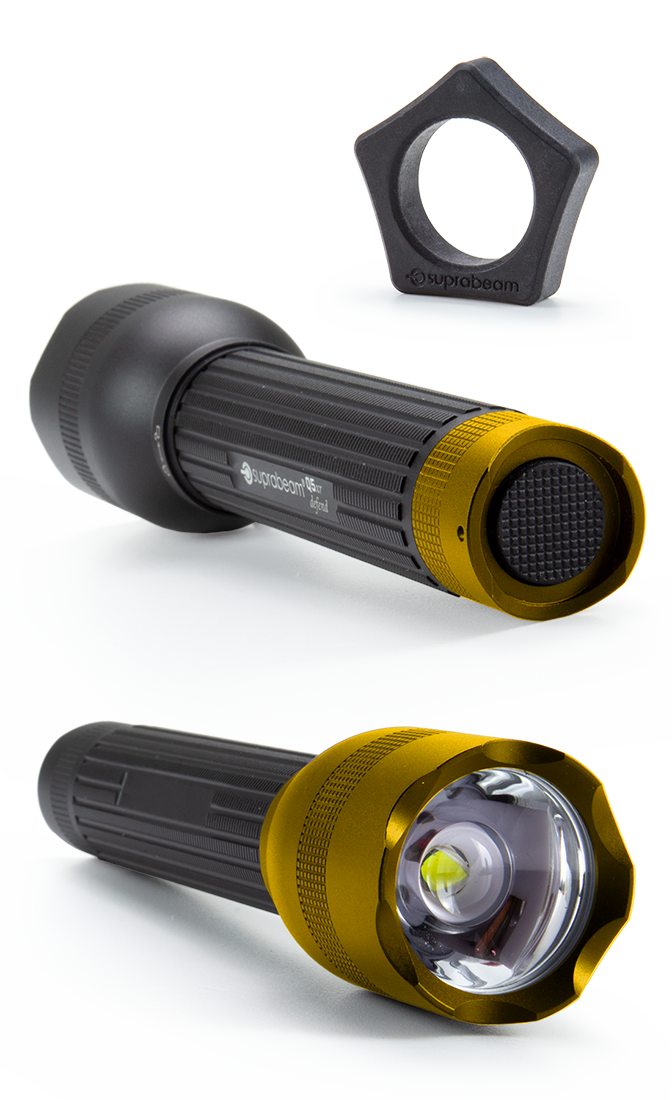 Internal Charging
Wall-mounted charging station
Q5xr defend is the first Suprabeam torch to feature internal charging.
The torch is charged in the included wall charger, which can be mounted on practically any surface. Just slide the torch head forward and place the torch in the wall charger to charge the torch. The torch indicates that the charge is in progress by flashing a red or green light in the charging rings to indicate the battery level.
The wall charger is perfect for mounting in a workshop, at a police station or in a vehicle. With the wall charger you always know where to find the torch, and it is always fully charged and ready for use.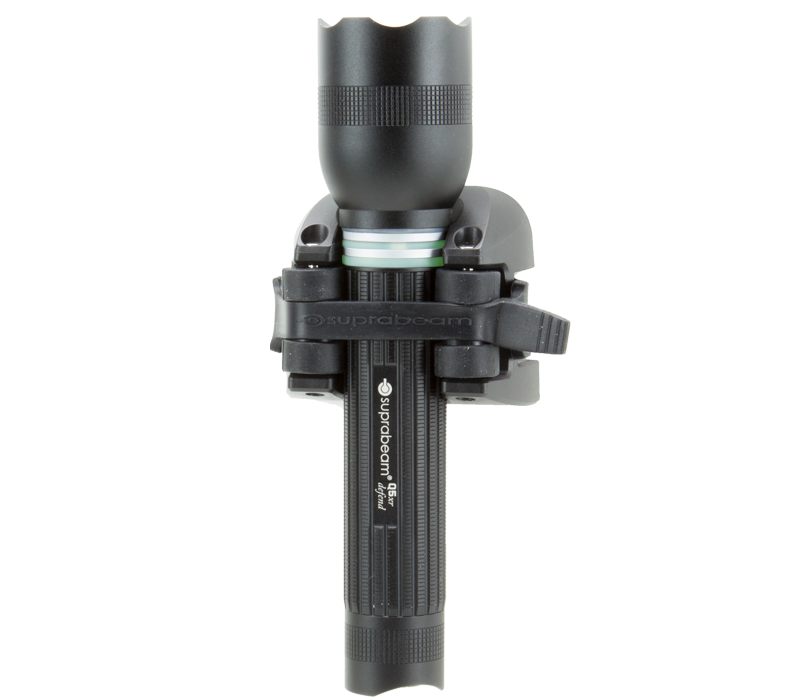 Quality Materials
High quality aluminum, space grey anodized
All of our torches are made from High Strength Aluminium, which is anodized in Suprabeam's  colour Suprabeam Tactical Black. Using aluminum has many advantages; it gives a sturdy and durable torch, that can withstand being used. Our aluminum body also works as a big heat-sink, ensuring that the LED is being cooled properly
The High quality of craftsmanship going in to our torches, ensures that our products always perform as they were intended to do. A smooth sliding focus, a solid metal touch switch, highly efficient optics, ripped ergonomic handle ensuring you a firm grip. All of the things combined is what makes a Suprabeam.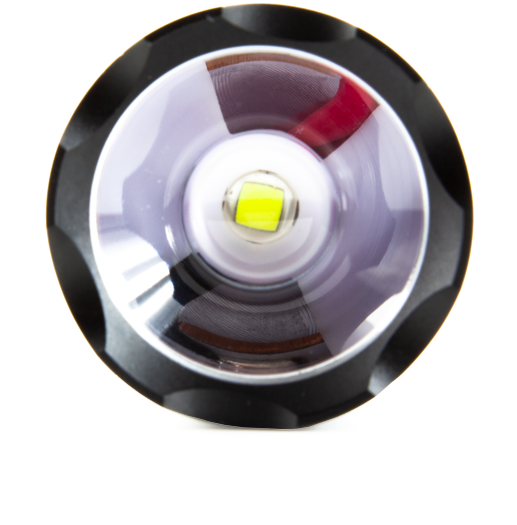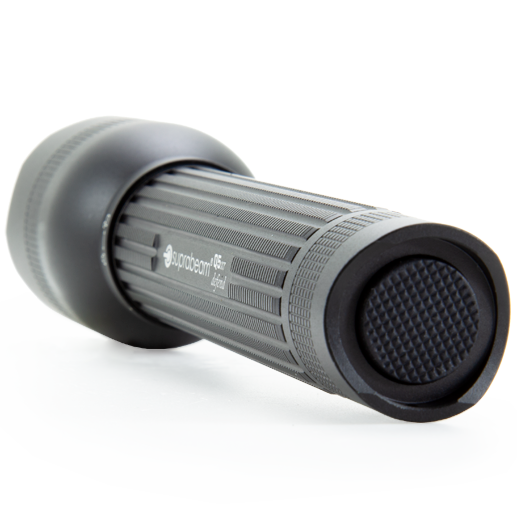 Electronic Switch
Programmable light modes
The intelligent electronic switch in the Q5xr defend gives you the opportunity to choose between two different light modes:
MAX > MEDIUM > LOW
LOW > MEDIUM > MAX
To switch between the light modes simply click the button 4 times, and on the 5th press and hold until the torch signals the mode change with the light.
If you often use the torch on LOW or MEDIUM, it is practical for the torch to start in LOW, so your eyes won't adjust to MAX. The electronic switch also enables you to use both instant strobe and the inspection light.
Hyperfocus™
Focus from wide floodlight to narrow spotlight