Information
The Suprabeam V3pro rechargeable is the culmination of our proud cutting edge craftsmanship. It brings together astonishing performance and brilliant design in a light weight solution.
Fitted as a standard with Hyperfocus™ , Adjustable angle, Interchangeable cable and carefully developed electronic software, which will perform with a Constant Current Light output till the batteries are completely drained.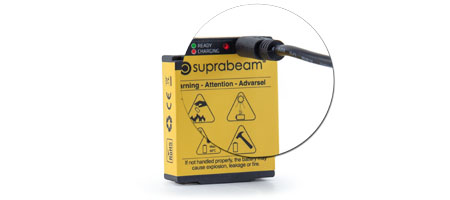 USB CHARGING
Compatible with USB. This enables you to charge everywhere, either with a 5V adapter, through your computer or with a car charger.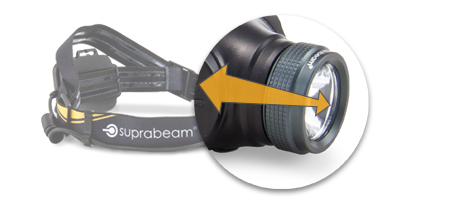 SLIDING HYPERFOCUS™
Hyperfocus™ optical system collects the LED radiance and distributes it with maximum efficiency from a perfect round floodlight beam to a highly intensive, long range spot beam. Just slide the head of the lamp for the correct light setting.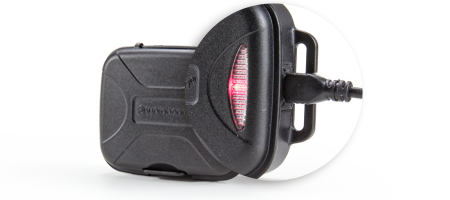 RED WARNING LIGHT
The red blinking warning light on the back of the batterypack will make you visible from behind. The light can be turned on and off.
Specifications
| | |
| --- | --- |
| LED: | 1 CREE Power Chip |
| Case: | Hi-Tech Compound / Aluminium |
| Color: | Anthracite Dark Grey |
| Switch: | Metal Switch Below Head |
| Headband: | Fits to 50-70 centimeters |
| Weight: | 184g |
| IP Rating: | Splash Waterproof IPx4 |
| Temperature: | -20°C to +50°C |
| Controller: | YES, Dimming+Memory, Max Mode |
| Power Source: | Li-Po 2800 mAh (10.4 Wh) 3.7 V. With internal charging. 1 pcs. included |
| Charging time: | 100% = 4h 30min | 80% = 3h |
| Beam Distance: | 245 meters |
| Luminous Flux: | Max 1000 LM / Standard 180 LM / Dimming 300-6 LM |
| Lighting Time: | Max 3h / Standard 8h / Dimming 225h |
| Accessories: | Removable cable, Washable Headband, Manual |
| Packaging: | Presentation tube |
| Part. No.: | 612.5211 |
What's in the box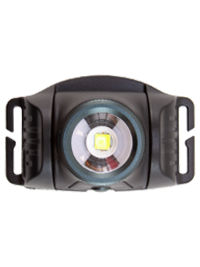 HEADLAMP WITH VERSATILE CABLE SYSTEM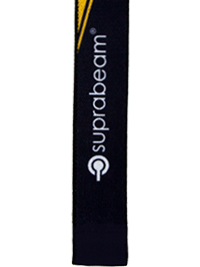 SPLIT HEADBAND WITH SILICONE STRIPING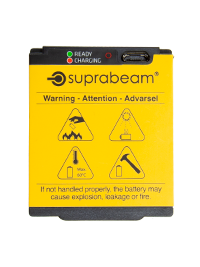 RECHARGEABLE USB BATTERY 2800mAh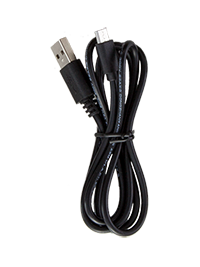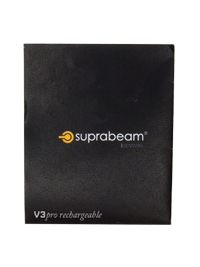 Focused accessories
Quality Materials
High quality aluminum, space grey anodized
All of our headlamps are made from High Strength Aluminium, which is anodized in Suprabeam's signature colour Suprabeam grey. Using aluminum has many advantages; it gives a sturdy and durable torch, that can withstand being used. Our aluminum head also works as a big heat-sink, ensuring that the LED is being cooled properly
The High quality of craftsmanship going in to our headlamps, ensures that our products always perform as they were intended to do. A smooth sliding focus, a solid metal switch, highly efficient optics, ripped ergonomic handle ensuring you a firm grip. All of the things combined is what makes a Suprabeam.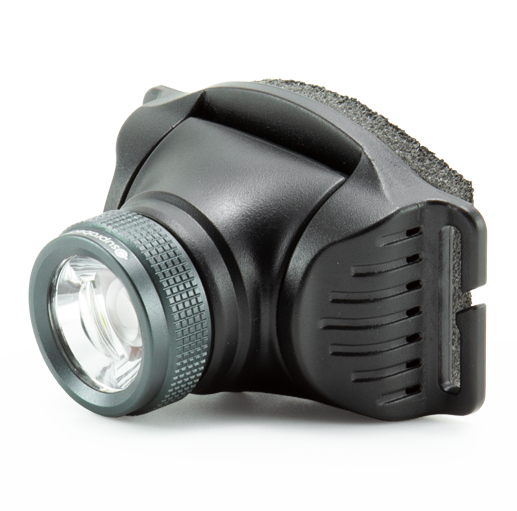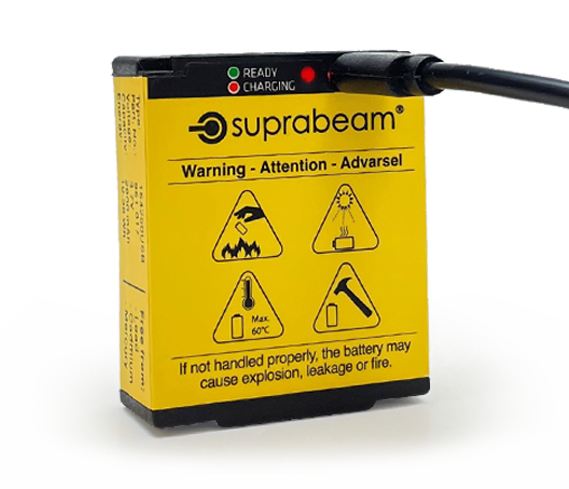 Li-po battery with USB charging
Professional charging solution
The rechargeable Li-Po battery in V3pro rechargeable now comes with a built in USB charging port!
The charging port has been moved into the battery itself in order to give the user even more control over the headlamp. With the integrated USB charging port, the battery can be charged while using the headlamp with a spare battery*. This lets you double or triple the runtime depending on your needs.
*spare batteries are bought separately
Even longer runtimes!
Advanced technologies and higher light output
The V3pro rechargeable is equipped with an advanced PCB board setup, featuring the DC converter technology. This electronic setup allows the LED chip to run more efficiently, which reduces both heat development from the power LED and the general energy consumption.
In everyday life this means longer runtimes and more light compared to other normal LED torches.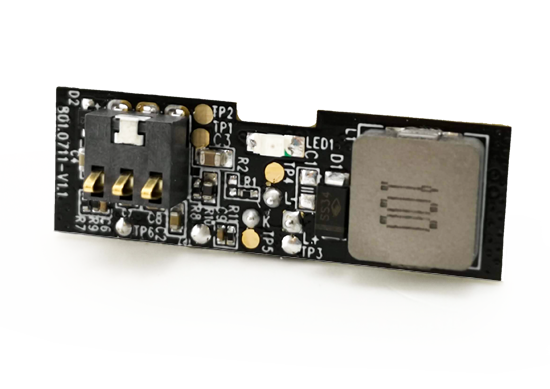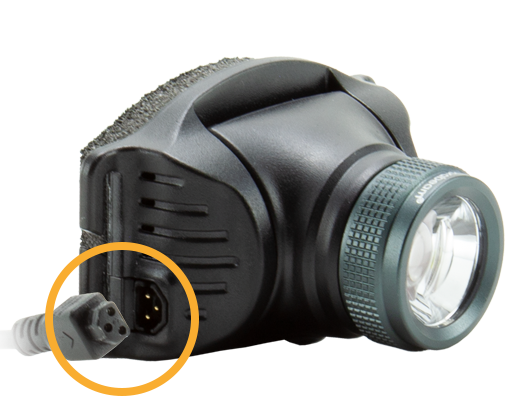 Versatile Headlamps
Change, Rearrange and Repair
Our professional headlamps are fitted with a versatile plug system that protects and prolongs the products lifetime. The plugs in the headlamp and battery pack will detach if your headlamp gets tangled.
Suprabeam headlamps are built to last. This is not only reflected in the choice of materials, but also the modular construction. The headlamp consists of four parts; lamp head, cable, batterypack, and headband – which are all interchangeable. This does not only make maintenance easier, but also prolongs product lifetime considerably.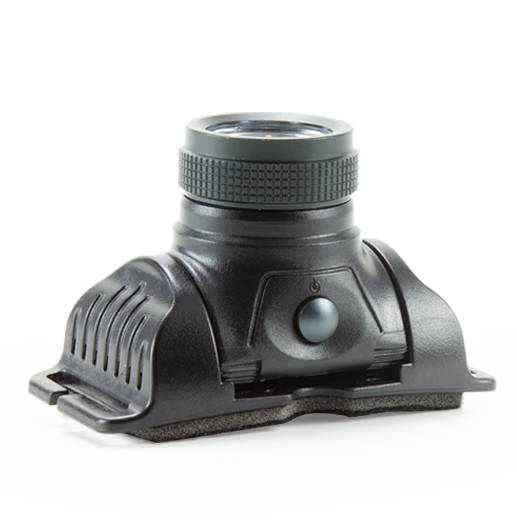 Intelligent Light Control and Switch
Click through the tabs to discover the functionalities of the V-series
A Suprabeam V3pro rechargeable switch is first grade electronics, ensuring a long lifetime and correct functionality every time.
The switch is metal button placed underneath the head, allowing you to step through the light modes easily, even with gloves on. The different light functions are controlled by ILC = Intelligent Light Control
Discover more about the ILC functionality by switching between the tabs above.
Max = Maximum output allowed by battery and LED
Standard = Start level, a medium light output
Dimmer = Dim your light to the prefered output
Memory = Remembers your latest output level
Transportation lock = Locks your headlamp, so it cant turn on during transportation
V3-series Intelligent Light Control
Two preset settings and electronic dimming
1. Click to turn on the headlamp in standard or the last used light level
2. Press and hold for 0,8 sec to change to the MAX light level. Do the same to switch back to the previous light level.
3. Click to turn off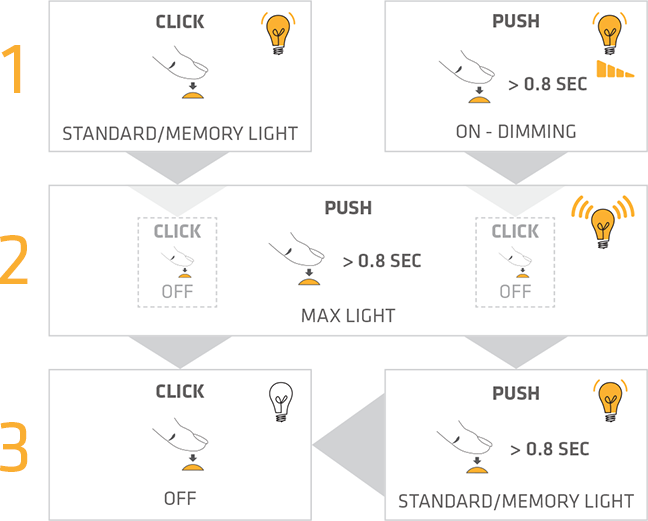 Transportation lock
Activate transportation lock when traveling with your headlamp
1. Turn on the headlamp in standard/memory
2. Press and hold for 6 seconds to activate transportation lock
3. Press and hold for 6 seconds to deactivate transportation lock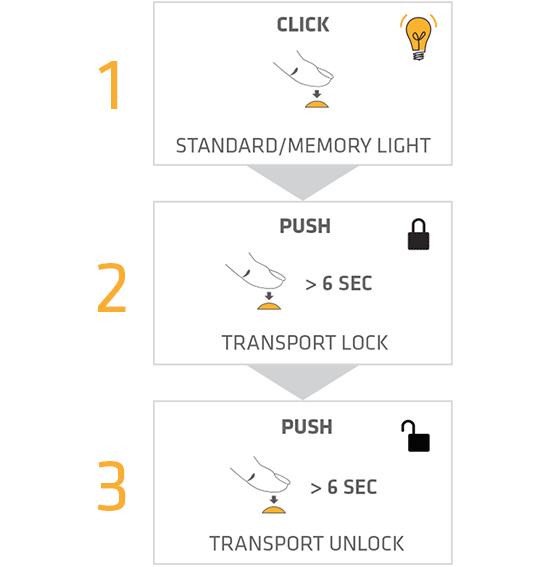 Backlight
Turn on the red backlight on the batterypack to improve visibility from behind
1. Turn on the headlamp on standard/memory
2. Press and hold for 3 seconds to activate backlight. / Click and hold for 3 seconds to deactivate backlight.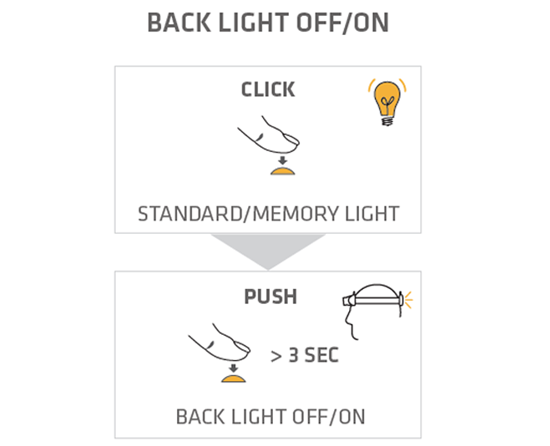 Hyperfocus™
Focus from wide floodlight to narrow spotlight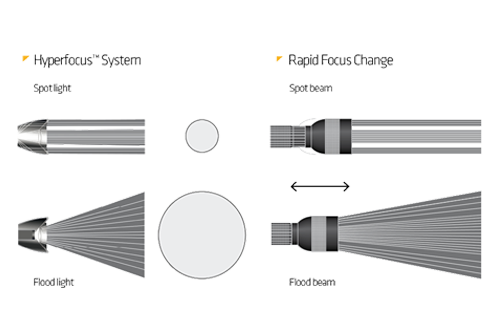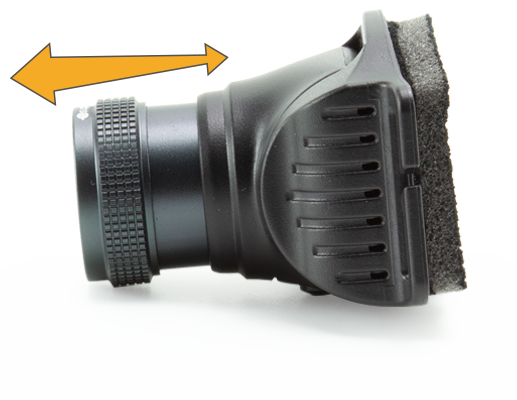 Battery Reserve Light
All rechargeable headlamps from 2015+ have this feature included as a new standard
When the battery reaches the last 10% of its total capacity, its integrated Battery Reserve feature automatically fades the light down to approximately 10-15% of the headlamps maximum lumens output.
This way you will get a visual notification, that the battery is low, and you will always know, when it is time to find a new battery or start heading home. With at least 40-80 lumens available in battery reserve for up to 30-60 minutes, depending on the rechargeable headlamp model.