Information
Suprabeam S2 is the perfect match for any professional in search of a top-quality headlamp. S2 features the iconic design of the S-Series, in an elegant grey colour. The headlamp produces 300 lumens and have a maximum runtime of 40 hours!
Dual Energy Concept, endless mounting options and dual lenses are some of the features that makes S2 the perfect work companion for any professional. S2 has been designed with ultimate comfort in mind, which allows you to wear the headlamp for hours without discomfort of any kind.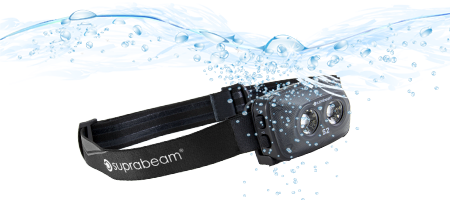 WATER- AND DUSTPROOF
S2 is made with an IP-rating of 68, which makes it dustproof and waterproof down to 2 meter. You will not have to worry about weather conditions, when you are on the go. The S2 is a perfect companion in almost all conditions..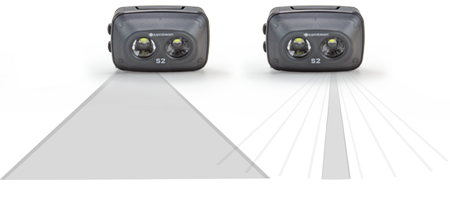 DUAL OPTICS
The S2 has two different optical lenses. One lens creating a wide flood light, providing an even distributed light covering a large area. The second optical lens is a mixed beam lens providing a 20 degree spot with a 60 degree stray light.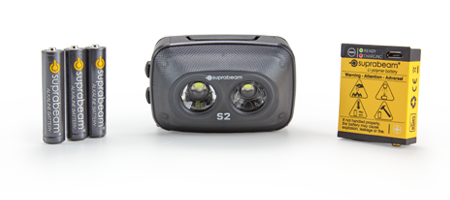 DUAL ENERGY
Suprabeam S2 is designed to run with the new Suprabeam DUAL ENERGY concept, which allows you to use the headlamp with 3xAAA alkaline batteries or the Suprabeam 1400 mAhLi-Po battery with built-in charger. Making it possible to easily switch between the powerful and environmental friendly rechargeable battery and the convenient alkaline batteries.

Specifications
| | |
| --- | --- |
| LED: | 2 CREE Power Chips |
| Case: | Hi-Tech Plastic Compound |
| Color: | Black House with Grey Transparent Front Cover |
| Switch: | Two Solid Silicone Switches |
| Headband: | Quality Headband with Silicone Stripes |
| Weight: | 116g |
| IP Rating: | Water -and Dust Proof IP68 |
| Temperature: | -20°C to +50°C |
| Controller: | YES, 3-step controller, flood/spot |
| Power Source: | 3 x AAA Alkaline batteries |
| Beam Distance: | 85 meters |
| Luminous Flux: | Max 300 LM / Medium 150 LM / Low 20 LM |
| Lighting Time: | Max 4h 30 min / Medium 9h / Low 40h |
| Packaging: | Recyclable Cardboard Packaging |
| Part. No.: | 602.1011 |
Video
Electricians using the S2 headlamp in their daily work
Mounting the S2 on safety helmet with the helmet clip
Lightcurve
What's in the box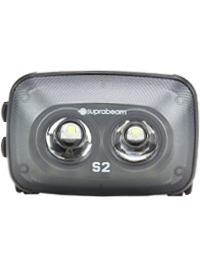 HEADLAMP WITH DUAL ENERGY CONCEPT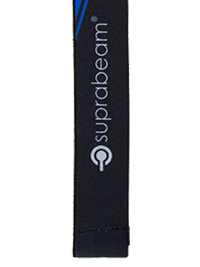 HEADBAND WITH SILICONE STRIPING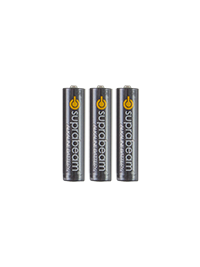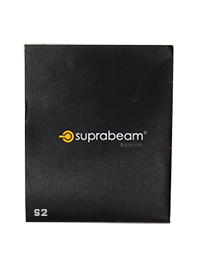 Focused accessories
Quality materials and advanced technologies
The famous Suprabeam quality
To obtain maximum strength and durability, all plastic parts are made up by different plastic compositions. This ensures that the headlamp can survive tough handling, in addition it keeps the wear parts lasting much longer.
To ensure that the headlamp stays in place at all times, the headband features two silicone stripes. For maximum comfort the headlamp has been fitted with a foam pad against the forehead. The headband can be easily adjusted while wearing it, by pulling the two plastic clips forward or backward.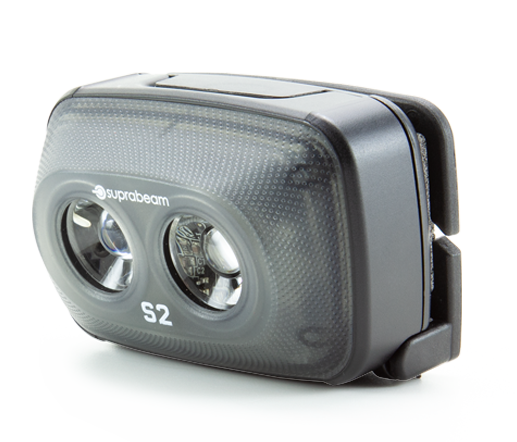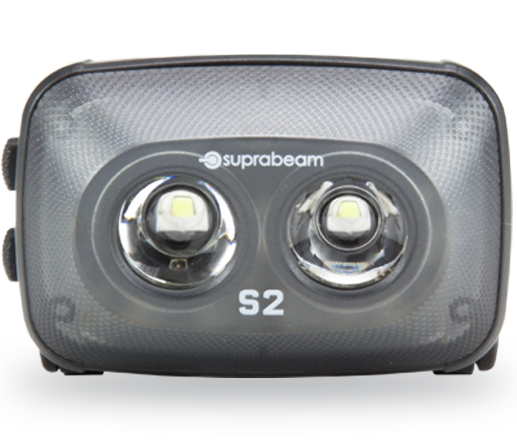 Dual optics
Flood and spot lens
S2 is created with two different optical lenses. The right lens has a 60° wide flood light, while the left lens has a 20° spot beam with 60° stray light. The flood light gives you a very wide beam, making you able to orientate in a wider area. From the other lens, the light is focussed into a spot beam, making you able to see up to 85 meters ahead.
Flood light is perfect for nearby tasks, and inspection work. It gives you a wide field of vision, making you able to work as if there were daylight. Spot light on the other hand, is perfect when you need to locate objects in the distance or orientate further ahead.
Both lenses have 3 light levels, which makes it possible to finetune the light to your needs.
Dual Energy Concept
Innovative and flexible battery system
S2 is designed with the brand new Suprabeam Dual Energy Concept. This makes it compatible with both rechargeable Li-Po batteries, and regular AAA Alkaline batteries. The flexible battery system gives you the environmental advantages of Li-Po batteries and the easy-to-get Alkaline batteries.
The Dual Energy Concept makes the S2 extremely versatile and gives you the ability to upgrade your S2 to an S2 rechargeable, by buying the rechargeable Li-Po battery separately. You can still easily swap the rechargeable battery out for Alkaline AAA batteries, if you run out of power or forget to charge the Li-Po battery.
This feature makes the S2 perfect for professional use, where the headlamp is shared between employees, as you will always have a working headlamp, even if someone forgets to charge the battery.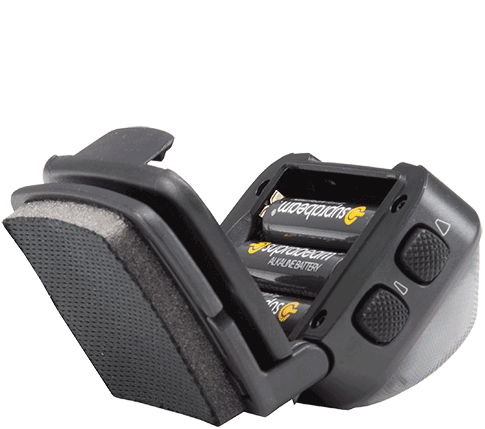 Waterproof - tested to 2 meter
S2 is IP68 rated
All the headlamps of the S-series are completely sealed, which makes them waterproof down to 2M. This ensures that the headlamps can be worn in any weather conditions, without you having to worry at all. The waterproofing is very practical when using the headlamp on a daily basis, as you will never have to take it off or detach it from your helmet, even if it rains hard. This way you will have a professional light, right where you need it.
IP (International Protection) Rating – Clarification
First digit is the protection rating against solid foreign objects (i.e. dust) and the second digit represents the protection against the ingress of water. The S2's first digit 6, means that it is protected against dust. And the second digit 8, explains that the product is protected against complete continuous submersion in water.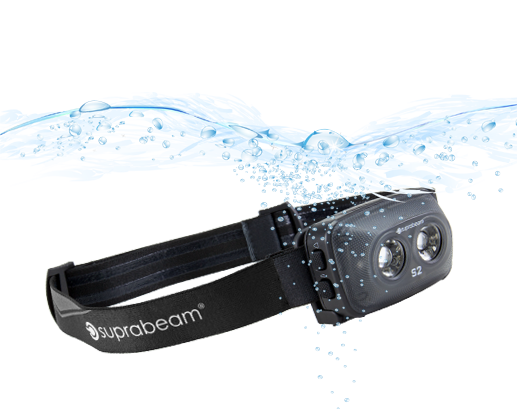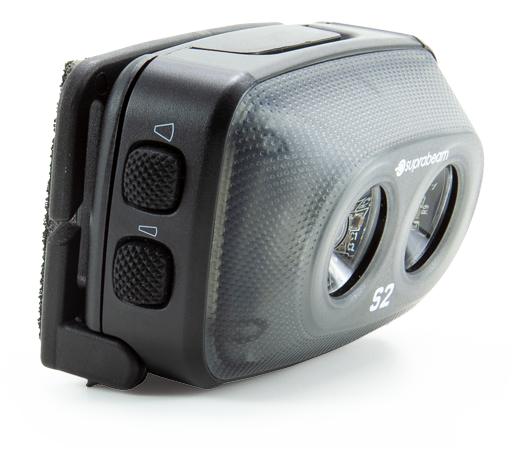 Light control and switch
Switch between the tabs to read more
Suprabeam S2 has a two-button system designed to be simple and precise. The buttons are solid silicone with an extra traction surface, which makes S2 easy to operate, even with gloves or wet hands. The buttons are placed on the right side of the headlamp, and they are easy to operate when wearing the headlamp. Flood light is activated by the top bottom, which turns it on and allows you to shuffle between light levels. The bottom button activates the spot lens, and shuffles between the three light levels for that lens.
Top button: Flood – Max, Medium, Low
Bottom button: Spot – Max, Medium, Low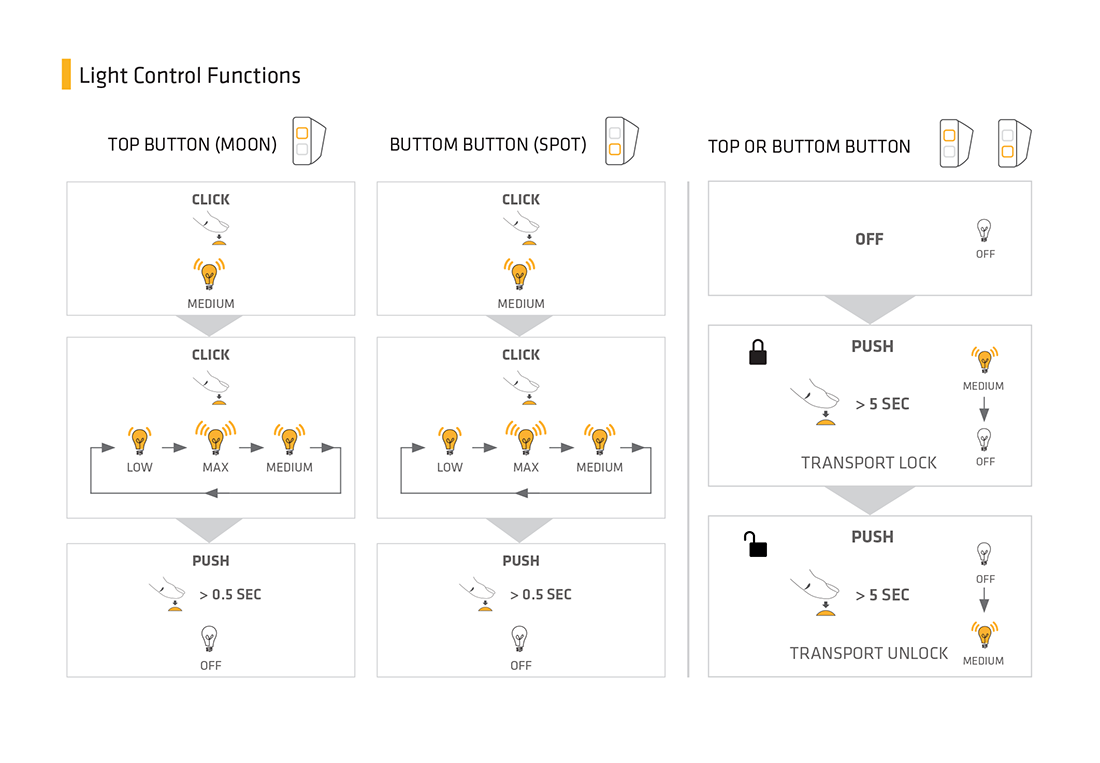 Versatile use
S2 can used in many different ways
Suprabeam S2 can be used in a number of different ways. Besides using it with the headband included, you can acquire a specially designed S-series helmet clip as an accessory. In addition, the helmet clip makes it possible to securely mount your S2 on a safety helmet, using the mounting slot featured on most safety helmets. The clip can also be used to fasten the headlamp to pockets on your work wear. If your safety helmet does not have a mounting slot on the front, the S2 can easily be mounted with our silicone headband as well.
Fitting your safety helmet with a headlamp has several advantages, even if you work in a partly lit construction site or building. There will always be areas that the projectors or work lamps cannot reach, and to avoid any hazards in those areas a mounted headlamp is ideal.
Further on, due to the shape of the headlamp, the S-series can be used as small work lamps. The shape enables you to place the S2 in many different positions, so you can light up the desired work area.