Information
Redefining the classic Suprabeam penlight – Introducing the Q1r.
The Suprabeam Q1r has been equipped with a powerful Li-Po battery, internal USB-C charging, electronic switch, and a super efficient LED chip. This perfect combination delivers astonishing 550 lumen, but the flashlight is still the size of a pen!
This extraordinarily bright penlight is the perfect tool for any inspection job, with enough power to light up details in the distance or in really dark surroundings. Q1r is as compact as a normal pen, and fits perfectly in any pocket.
INTERNAL USB-C CHARGING
Compatible with USB-C. This enables you to charge everywhere, either with a 5V/2A adapter, through your computer or with a car charger. Charge up to 80% in only 1 hour.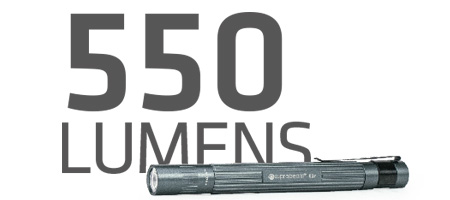 POWERFUL PEN TORCH
The Q1r is our most powerful pen torch to date. With 550 lumens you get extreme power out of a torch that fits right in your pocket.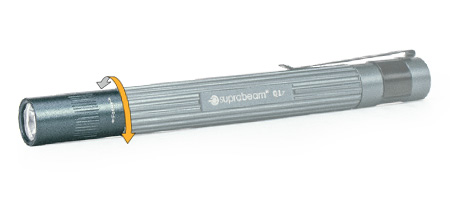 ROTATING HYPERFOCUS
The rotating Hyperfocus™ lets you go from flood to spot with a light turn of the lamphead. Control the focus with two fingers and switch quickly from 20 degrees to 70 degrees.

Specifications
| | |
| --- | --- |
| LED: | 1 CREE Power Chip |
| Case: | Anodized, Aluminium |
| Color: | Anthracite Dark Grey |
| Switch: | Electronic Switch with Solid Silicone Button |
| Dimensions: | L: 144mm, ø 15mm |
| Weight incl. battery: | 48g |
| IP Rating: | IP20 |
| Temperature: | -20°C to +50°C |
| Controller: | Yes, DIM and STEP mode |
| Power Source: | Li-Po 10780 720 mAh (2.66 Wh) 3.7 V. (Battery can't be removed) |
| Charging Time: | 80% = 1h, 100% = 1h 30 min |
| Charging Temperature: | -0°C to +45°C |
| Beam Distance: | Variable from Spot to Floodlight / 100 Meters |
| Luminous Flux (Dim mode): | Max: 550 lm / Dim: 125-6 lm |
| Lighting Time (Dim mode): | Max: 1h. / Low dim: 50h |
| Luminous Flux (Step mode): | Max: 550 / Medium: 100 / Low: 50 |
| Lighting Time (Step mode): | Max: 1h / Medium: 2h 15min / Low: 4h 45min |
| Accessories: | Attachment Clip, USB-C Cable |
| Packaging: | Presentation Tube |
| Part. No.: | 501.5011 |
Lightcurve
What's in the box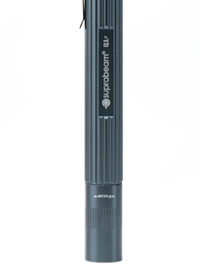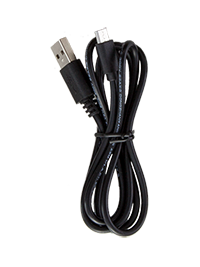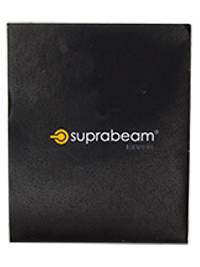 Focused accessories
Internal USB-C charging
Charge Q1r with USB-C directly in the torch
The Q1r features an extremely simple charging system. Simply rotate the clip to reveal the USB-C charging port, from where the penlight can be charged. While charging, the small light next to the micro-USB port will shine red, and when the battery is fully charged it will turn green.
With a battery life of up to 50 hours, there is plenty of light to last several workdays on a single charge.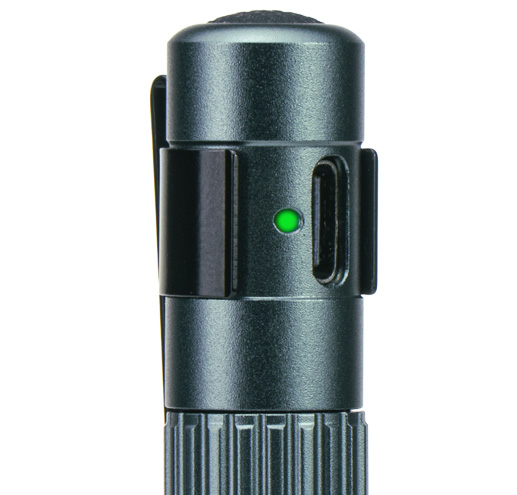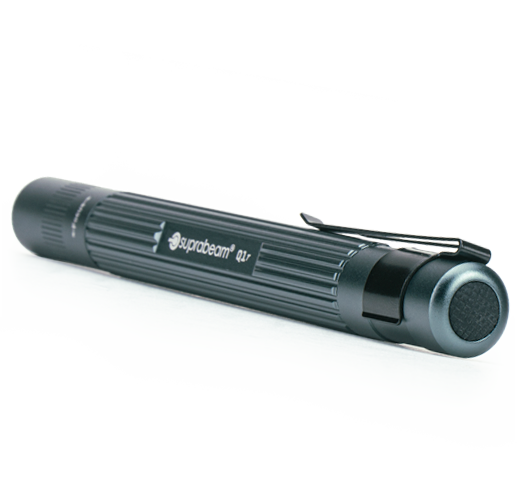 Electronic Switch
Stepless dimming
The Q1r is equipped with an intelligent electronic switch, that makes it possible for you to adjust the light level precisely for your needs. The torch is activated on the last used light level by a short press/click, and a press over 0,6 sec. will put the torch in MAX. Dimming is activated from OFF state by pressing and holding the switch until the desired light level is reached.
The switch is solid rubber with an extra-grip texture, which gives you the ultimate control in all situations.
MAX= Maximum light output (550) lumens
DIMMING= Stepless dimming from 125 to 6 lumens
Stepless Electronic Dimming
Stepless dimming
Q1r features an electronic dimming, as found on the Suprabeam headlamps. The main benefit of electronic dimming is that it enables you to adjust the light level to your specific preference. The Q1r dims from 125-6 lumens, and it will continue to dim up and down as long as the switch is pressed.
When turned off, the electronics will remember your chosen light setting and the next time you turn on your torch, it will start up in the same light level.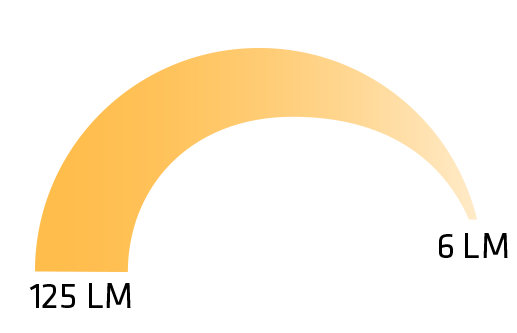 Hyperfocus™
Focus by head rotating - from wide floodlight to narrow spotlight