Velcro mount
Product facts
Universal velcro straps which easily can be used to mount the headlamp on your cycling helmet, backpack, handlebar, belt or almost everything else you can think of.
P/N: 950.074
Compatible with: V3air, V3air rechargeable, V3pro, V3pro rechargeable
Velcro mount included in V4pro rechargeable packaging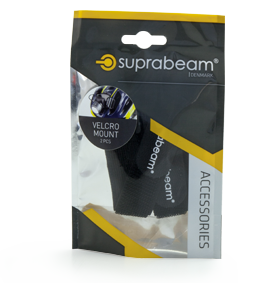 Mounting instructions
Video guide
1. Insert the velcro straps on the headlamp and battery pack.
2. Tighten the straps and put it through the helmet.
3. Connect the velcro straps on both ends.