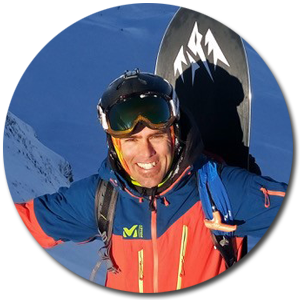 Suprabeam Ambassador Team
Ueli Kestenholz
SNOWBOARDER       FILM MAKER
Growing up in Switzerland at the Lake of Thun, surrounded by beautiful mountains like the Eiger I fell in love with the mountains at a early age. Besides skiing I was skateboarding and windsurfing as a kid. So when I saw the first snowboarders I knew this was my sport.
From the first steps on a snowboard to being a two times ISF-World champion, Olympic Medalist as well as a two times X-Games winner in BoarderX things went pretty quick. Besides all the competitions, freeriding to me was and is the real deal in snowboarding. Since my first Alaska-Experience back in 96 I always got drawn back to the fantastic terrain of the Chugach-Mountains.
After participating at the Olympic BoarderX premiere in Torino 2006 I quit racing and wanted to focus 100% on freeriding. In that same year I discovered Speedriding. A sport combining my passion for Skydiving and Freeriding. Previously unridable terrain is now accessible, using a small Speedriding-parachute and Skis. Together with my friend Mathias Roten we founded created "Playgravity", realized several first-descents and won multiple awards with our movies.
Nowadays my winters are split about 50/50 into snowboarding and speedriding, creating photos and videos in both sports. I'm working on my own projects, with my sponsors as well as filming for international movies such as "Nuit de la glisse" or "Warren Miller".