スプラビーム保証
電池のみが消耗しますが、トーチやヘッドライトの他のすべての部品には2年間の保証が付いています。
Suprabeamは当社製品に材料および製造上の欠陥がないことを保証します。正常な使用およびサービスの下で欠陥があると判明した製品または部品を修理または交換します。
私達は2年に限り保証を提供します。この保証には通常のメンテナンスとサービスは含まれず、バッテリー、あるいはSuprabeam以外の第三者による改造、誤用、過失、事故、不適切な修理の対象となっている製品や部品には適用されません。
2年間保証に関する詳細情報および個別サポートについては、Suprabeam製品を購入された販売店または販売店にお問い合わせください。
※修理または交換に時間を要する場合があります。
Warranty form
Please fill out warranty form for assistance
Our warranty process must always go through the place where the Suprabeam product was purchased. First hand inspection of the product ensures the easiest warranty process for all parties. Should this not be possible for whatever reason, please fill out the form below.
All inquiries that could have been handled from the place of purchase, will be directed to the place of purchase.
To ensure the best possible customer service we strongly encourage you to read our troubleshooting guide. This will give you a better understanding of the product, and what could be wrong. Please fill out all fields, and if possible upload a picture of the receipt and the product.
If your Suprabeam product is not covered by the warranty or you wish to purchase a spare part, please visit this page.
Where do you find the batch code?
You can find it inside the tube, or inside the batterypack
All Suprabeam products are marked with a batch code. The batch code consists of two letters and one digit (Example: GK-1) and can be found on a white sticker when removing the battery.
Headlamps:
Open the batterypack and remove the rechargeable battery or the alkaline batteries to reveal the white sticker inside the batterypack.
Flashlights
Unscrew the switch and remove the rechargeable battery or alkaline batteries. On Q3, Q3classic, Q3defend, Q4, Q4defend the white sticker is found on the side of the batterypack, on all other torches the white sticker will be inside the tube.
Multilamps
Unscrew the endcap and remove the battery to reveal the white sticker.
Worklights
The batch code can be found printed on either the front or the back of the light.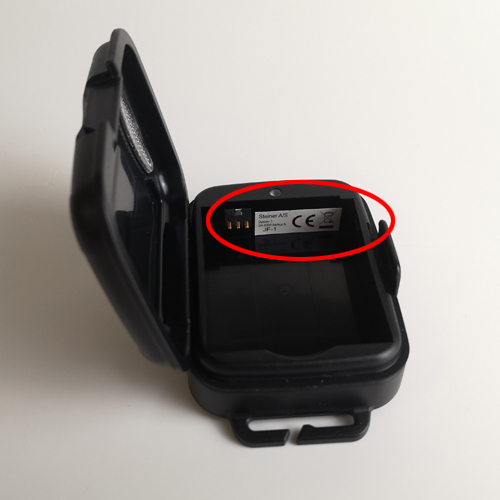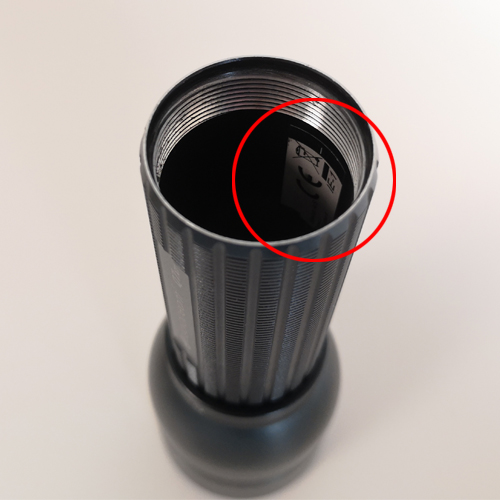 バッテリーのバッチコードはどこにありますか?
バッテリーに印刷
すべてのSuprabeamバッテリーにはバッチコードが表示されています。バッチコードは4文字(例:"CPMG")で構成され、バッテリーに印刷されています。
異なるタイプのバッテリーの例については、以下の写真をご覧ください。