Suprabeam warranty
2 year warranty period
We offer a 2 year guarantee for all our flashlights and headlamps. Batteries are not covered by this, as they will be used up.
Suprabeam warrants its products to be free from defects in materials and workmanship. We will repair or replace, any product or part which is found to be defective under normal use and service.
We provide 2 years limited warranty. This warranty does not include normal maintenance and services and does not apply to batteries nor any products or parts which have been subject to modification, misuse, negligence, accident, improper repair by anyone other than Suprabeam.
For detailed information and individual support regarding 2 year warranty, please contact place of purchase.
Warranty form
Please fill out warranty form for assistance
Our warranty process must always go through the place where the Suprabeam product was purchased. First hand inspection of the product ensures the easiest warranty process for all parties. Should this not be possible for whatever reason, please fill out the form below.
All inquiries that could have been handled from the place of purchase, will be directed to the place of purchase.
To ensure the best possible customer service we strongly encourage you to read our troubleshooting guide. This will give you a better understanding of the product, and what could be wrong. Please fill out all fields, and if possible upload a picture of the receipt and the product.
If your Suprabeam product is not covered by the warranty or you wish to purchase a spare part, please visit this page.
Where do you find the batch code?
You can find it inside the tube, or inside the batterypack
All Suprabeam products are marked with a batch code. The batch code consists of two letters and one digit (Example: GK-1) and can be found on a white sticker when removing the battery.
Headlamps:
Open the batterypack and remove the rechargeable battery or the alkaline batteries to reveal the white sticker inside the batterypack.
Flashlights
Unscrew the switch and remove the rechargeable battery or alkaline batteries. On Q3, Q3classic, Q3defend, Q4, Q4defend the white sticker is found on the side of the batterypack, on all other torches the white sticker will be inside the tube.
Multilamps
Unscrew the endcap and remove the battery to reveal the white sticker.
Worklights
The batch code can be found printed on either the front or the back of the light.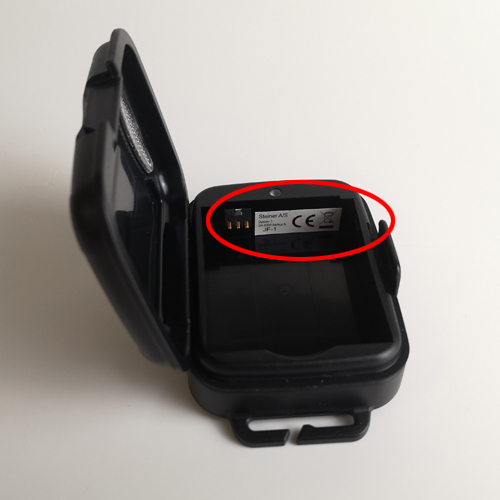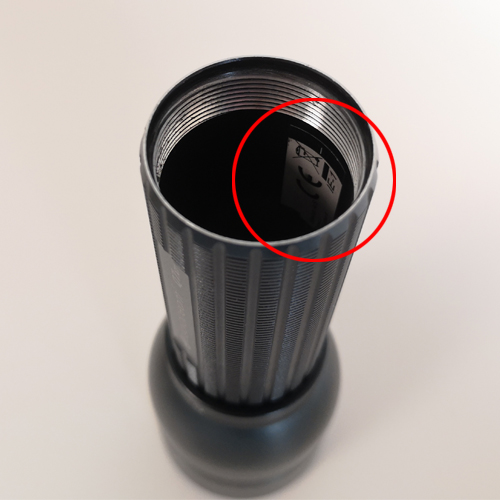 Where do you find the battery batch code?
Printed on the battery
All Suprabeam batteries are marked with a batch code. The batch code consists of four letters (example: "CPMG") and is printed on the battery.
See the pictures below for examples on different battery types.