Garanzia Suprabeam
Garanzia di 2 anni
Offriamo una garanzia di 2 anni per tutte le nostre torce e proiettori. Le batterie non sono coperte da questo, in quanto saranno esaurite.
Suprabeam garantisce che i suoi prodotti sono privi di difetti nei materiali e nella lavorazione. Ripareremo o sostituiremo qualsiasi prodotto o parte che risulta essere difettoso in normali condizioni d'uso e di servizio.
Forniamo una garanzia limitata di 2 anni. Questa garanzia non include la normale manutenzione e servizi e non si applica alle batterie né a prodotti o parti soggetti a modifiche, uso improprio, negligenza, incidenti, riparazioni improprie da parte di soggetti diversi da Suprabeam.
Per informazioni dettagliate e supporto individuale per quanto riguarda la garanzia di 2 anni, si prega di contattare il luogo di acquisto.
Warranty form
Please fill out warranty form for assistance
Our warranty process must always go through the place where the Suprabeam product was purchased. First hand inspection of the product ensures the easiest warranty process for all parties. Should this not be possible for whatever reason, please fill out the form below.
All inquiries that could have been handled from the place of purchase, will be directed to the place of purchase.
To ensure the best possible customer service we strongly encourage you to read our troubleshooting guide. This will give you a better understanding of the product, and what could be wrong. Please fill out all fields, and if possible upload a picture of the receipt and the product.
If your Suprabeam product is not covered by the warranty or you wish to purchase a spare part, please visit this page.
Where do you find the batch code?
You can find it inside the tube, or inside the batterypack
All Suprabeam products are marked with a batch code. The batch code consists of two letters and one digit (Example: GK-1) and can be found on a white sticker when removing the battery.
Headlamps:
Open the batterypack and remove the rechargeable battery or the alkaline batteries to reveal the white sticker inside the batterypack.
Flashlights
Unscrew the switch and remove the rechargeable battery or alkaline batteries. On Q3, Q3classic, Q3defend, Q4, Q4defend the white sticker is found on the side of the batterypack, on all other torches the white sticker will be inside the tube.
Multilamps
Unscrew the endcap and remove the battery to reveal the white sticker.
Worklights
The batch code can be found printed on either the front or the back of the light.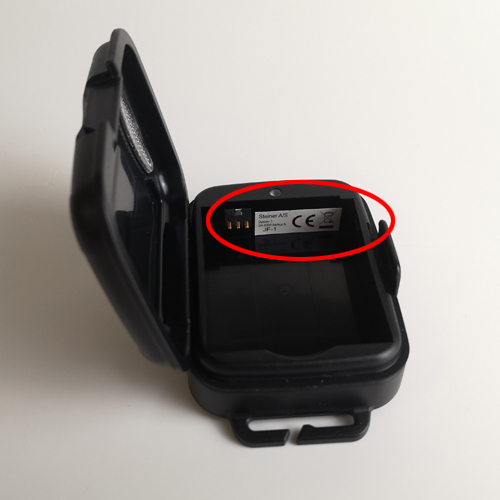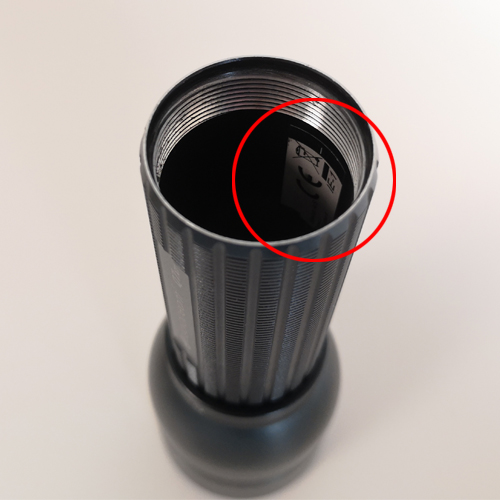 Dove si trova il codice del lotto della batteria?
Stampato sulla batteria
Tutte le batterie Suprabeam sono contrassegnate da un codice di lotto. Il codice di lotto è composto da quattro lettere (esempio: "CPMG") ed è stampato sulla batteria.
Vedere le immagini sottostanti per esempi su diversi tipi di batterie.